Pecan-crusted chicken salad
Have leftovers but unsure of what to do with them? Why not transform them into a fantastic lunch? Baby spinach, red onions and sweet grape tomatoes are topped with diced pecan-crusted chicken pieces and sprinkled with slivered almonds. Serve with your favorite Asian-style dressing to create an entirely new meal.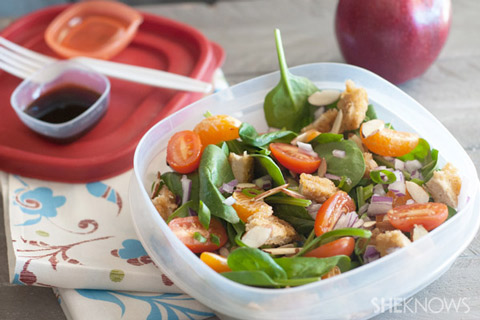 Let's face it: There comes a time when all of us have those dreaded leftovers hiding in the fridge. Eating the same meal can be super boring, and finding exciting ways to change meals can be tricky. Here we share a super-easy way to use up leftover pecan-crusted chicken. By dicing the chicken and adding it to fresh baby spinach, we create a simple salad that is not only super delicious, but will serve as our lunch on the go.
Pecan-crusted chicken salad
Yield 2 large salads
Ingredients:
1 leftover pecan-crusted chicken breast, diced and divided
4 cups fresh baby spinach
1/2 small red onion, diced
1/2 cup grape tomatoes, halved
1/2 cup mandarin oranges, peeled and sectioned
2 tablespoons slivered almonds
2 GladWare food storage containers
2 tablespoons any Asian-style dressing (pictured), divided, or use leftover lime-honey dipping sauce
Directions:
Divide the spinach between the two food containers. Add equal amounts of the red onion, tomatoes and mandarin oranges. Divide the chicken between the two salads and top each salad with 1 tablespoon of slivered almonds.
Place the lid on the container and pack it in your lunch bag. We also included a separate container with our dipping sauce to use as a salad dressing, along with an apple to make this lunch complete.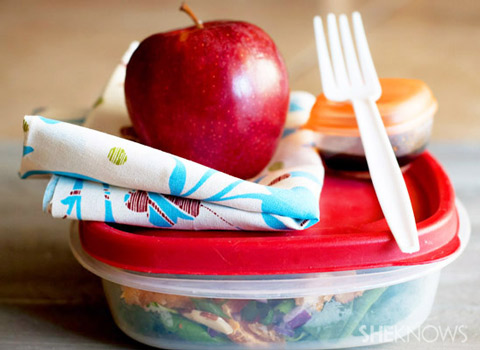 More ideas for using leftovers
Fried orzo with leftovers
Leftover mini green bean casserole frittatas
Turn your leftovers into mouthwatering meals