More time for Mom: Five-ingredient broccoli cheese pasta
Being a mom is already a busy job, and dinner planning can add unwanted stress. For a simple, filling recipe using just five ingredients, this rich and creamy broccoli and pasta dish will please the entire family while also keeping Mom happy.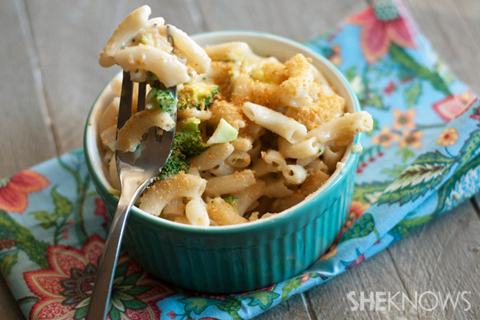 This super easy and delicious dinner is ready in no time. Using Velveeta shells and cheese as the base saves a huge amount of time, especially for busy moms. Adding in frozen broccoli helps brighten up the dish while the Parmesan cheese topping gives it a little zesty tang. If you want to make this dish even more special, grab a rotisserie chicken from your local grocer and add in diced chicken breast. Trust us — there won't be any complaints in your house after this tasty meal.
5-ingredient broccoli cheese pasta recipe
Yield: 4 servings
Ingredients:
1 box macaroni pasta
1/2 of 1 Velveeta queso blanco cheese loaf, cubed
1 (10 ounce) box frozen broccoli florets, thawed and drained
1 teaspoon fresh black pepper and sea salt to taste
Toasted bread crumbs for garnish (optional)
Directions:
In a medium-sized pot, prepare the macaroni as directed on the package. Drain and return macaroni pasta to the pot.
Add the cubed Velveeta cheese, broccoli, salt and pepper. Stir well.
Cover and allow to cook on medium-low heat for 15 minutes or until the broccoli is soft and the cheese has melted completely. Spoon into bowls and garnish with toasted bread crumbs (optional). Serve immediately.
More great ideas using Velveeta
Mexican Velveeta dip
Classic tuna casserole
Deluxe dinner nachos