Cheesy corn chowder with bacon
If the weather has taken a turn for the bitter worse, this cheesy corn chowder is the perfect winter pick-me-up. Eat it alone or with your favorite sandwich.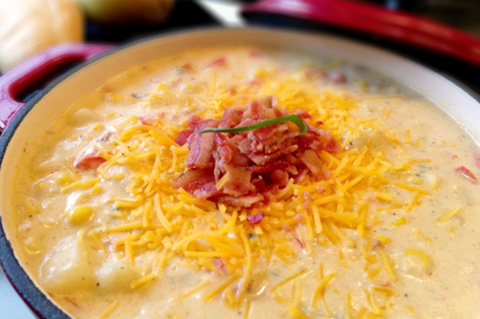 Fresh sweet corn, salty bacon, spicy jalapeño and a variety of cheeses meld together to make this thick and creamy soup a crowd pleaser. This soup is so good it actually takes two recipes to make it — the asiago creamed corn is terrific as its own side dish.
Cheesy corn chowder with bacon recipe
Serves 8-10
Ingredients:
Asiago creamed corn:
2 cups (approximately 4 ears) fresh corn (or substitute frozen)
1 (8 ounce) package Neufchatel cheese (cut into large squares)
1/2 cup asiago cheese, grated
1/2 cup unsalted butter (or 1 stick)
1/2 cup milk
1 tablespoon refined sugar
Corn chowder:
6 cups chicken broth
4 strips bacon (uncooked)
2 cups half and half
1 recipe (see below) asiago creamed corn (or 2 cans creamed corn)
2 cups (approximately 4 ears) fresh corn
2 carrots, diced
2 red bell peppers, diced
2 garlic cloves, minced or pressed
2 jalapeños, seeded and diced
1 large white potato, cubed
1 yellow onion, diced
1 cup cheddar cheese, grated
1 cup pepper jack cheese, grated
1/4 cup unsalted butter
1/2 cup flour
2 tablespoons fresh parsley, finely chopped
1 tablespoon olive oil
1/4 teaspoon hot pepper sauce
Salt and pepper to taste
Green onion (for garnish)
Directions:
Asiago creamed corn:
In a slow cooker, place Neufchatel squares, cut corn, milk, butter, sugar and grated asiago. Cook on high for 2 to 3 hours. Add salt and pepper to taste.
If you don't have a slow cooker, use a large saucepan and cook on low heat for approximately 4 hours or until cheese is melted and ingredients are completely heated through. Set aside.
Corn chowder:
In a large saucepan, heat bacon strips in olive oil over medium heat. Cook bacon until fat has rendered and the meat is firm but not crisp. Remove bacon and let it drain on paper towels. You'll use the rendered fat for the chowder, but save the bacon for garnish.
Reduce heat to low. Add yellow onions, carrots and peppers and cook for 15 to 20 minutes, stirring occasionally until vegetables begin to soften. Once the bacon fat is liquefied and vegetables are tender, turn the heat to medium and add butter. Let it simmer for 3 to 4 minutes to melt the butter and combine it with the other ingredients.
Add flour and mix thoroughly until flour is fully incorporated.
Pour in chicken broth, add potatoes and garlic, and bring to a boil. Add half and half and fresh corn and bring the mixture back to a boil (about 10 to 12 minutes).
When the potatoes become tender and just start to break down, reduce the heat.
Add creamed corn, cheddar and pepper jack cheese, hot pepper sauce and salt and pepper and mix thoroughly.
Allow the soup to simmer until the corn is tender (about 10 to 12 minutes) and chowder has reached desired consistency.
Dice the reserved bacon and green onion for garnish.
More soup recipes
Italian-style tomato soup with grilled cheese
Buffalo chicken soup with orzo
Lentil soup recipe