Guinness mac and cheese
Mac and cheese is all grown up and ready to celebrate St. Patrick's Day! Guinness mac and cheese uses Guinness beer for deep flavor and three different cheeses to really up the ante.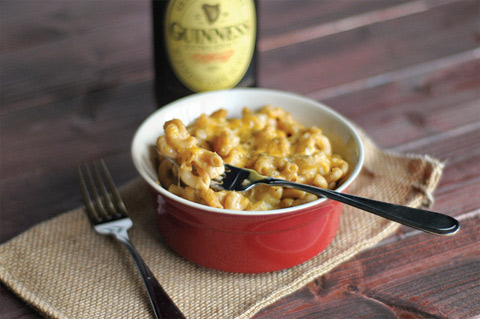 Guinness macaroni and cheese
Serves 8
Ingredients:
1 pound elbow macaroni
2 tablespoons butter
2 tablespoons flour
1/2 cup Guinness beer
2 cups 2 percent milk
2 cups sharp cheddar cheese
1 teaspoon salt
1 teaspoon pepper
1/2 teaspoon dry mustard
Directions:
Cook pasta according to package instructions to al dente. Drain and set aside.
In a large saucepot, melt the butter over medium heat.
Whisk in the flour and, whisking constantly, allow to cook for 1 minute.
Pour in the Guinness beer and whisk vigorously. The beer will make the flour mixture thicken immediately.
Pour in the milk and stir until there are no lumps and the mixture starts to thicken. Season with salt, pepper and dry mustard.
Let the milk mixture cook for about 5 minutes, stirring occasionally, until it thickens and coats the back of a spoon.
Remove from the heat and stir in the shredded cheese until the cheese is melted completely.
Stir in the cooked pasta.
If desired, pour pasta and sauce into a baking dish or ramekins and place under a broiler to create a cheesy crust on top of the pasta.
Serve hot.
More mouth-watering mac and cheese recipes
Crawfish mac and cheese
Broccoli mac and cheese
Truffle mac and cheese