Black bean and sweet potato empanadas
Great as a snack or a light meal, black bean and sweet potato empanadas are a handful of deliciousness!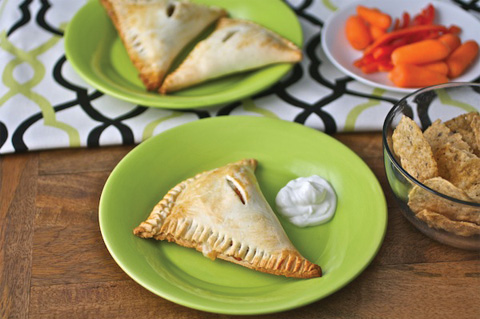 A great flavor combo is black beans and sweet potatoes. The ultimate when it comes to a practically effortless vegetarian snack or light meal, this recipe for black bean and sweet potato empanadas is spot on! Rather than make your own dough (though you certainly could), this recipe calls for the convenience of using a package of prepared, refrigerated pie crusts. Serve with fresh veggies and chips and salsa. Your family will love that you can hold these empanadas in your hand and enjoy!
Black bean and sweet potato empanadas
Serves 4
Ingredients:
1 package prepared pie crust (2, 9-inch shells)
12 ounces cooked, mashed sweet potatoes
1 (15 ounce) can black beans, rinsed and drained
1/4 cup red bell pepper, diced
1/2 cup shredded Monterey Jack cheese
1/2 teaspoon dried cumin
1/4 teaspoon ancho chile powder
1/4 teaspoon ground black pepper
1 egg white
Nonstick cooking spray
Directions:
Preheat your oven according to the pie crust package directions. Lightly spray two baking sheets with the nonstick cooking spray and set aside.
In a medium-sized saucepan, combine the mashed sweet potatoes, black beans, red bell pepper, cumin, ancho chile powder and black pepper. Mix well until warm.
Meanwhile, lay 1 pie crust on a flat work surface and carefully cut it into even quarters. You should have 4 pieces of dough shaped like triangles. You'll do the same with the second pie crust.
Spoon about 2 large tablespoons of the sweet potato mixture into the center of the triangle, making sure not to get too close to the edges.
Evenly divide the cheese and sprinkle a bit over the top of the sweet potato mixture.
Fold the triangle into a smaller triangle, and use a fork to crimp the edges closed.
Lightly brush the egg white over the tops and edges of the empanadas. Use a sharp knife to cut a slit in the top, about 1-1/2 inches long.
Place on the baking sheets and bake for 9-12 minutes or until the dough turns golden.
Allow the empanadas to cool before serving. Note that while the outsides might be cool to touch, the insides will be hot.
Serve with sour cream or salsa.
Grab and enjoy!
More healthy eating recipes