Homemade breakfast cereals
Tired of spending a fortune on boxed cereal that is loaded with sugar and preservatives? Save money and get healthier by making one of these three kid-friendly homemade cereals instead.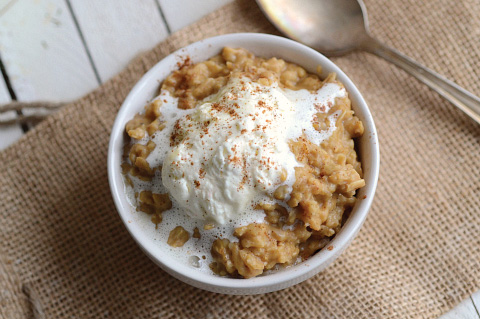 The addition of kid-approved ingredients, like white chocolate chips, craisins, whipped cream and cinnamon, turn these once healthy breakfasts into something the little ones will love too. Healthier, cheaper cereals your kids will crave, what's not to love?
Pumpkin pie oatmeal
Serves about 4
Ingredients:
2 cups low-fat milk
2 cups water
2 cups old-fashioned oats (not instant)
1 cup canned pumpkin (not pumpkin pie mix)
About 1 teaspoon pumpkin pie spice
4 tablespoons brown sugar
1 teaspoon vanilla or almond extract
1/4 cup chopped walnuts
Fresh whipped cream
Directions: 
In a medium size saucepan, heat milk, water and oats on low heat until it simmers. Add pumpkin and spice. Bring mixture to a boil and stir for at least 5 minutes or until thick.
Remove from heat and stir in brown sugar, vanilla and walnuts. Serve with fresh whipped cream and a dash of cinnamon.
Craisin white chocolate granola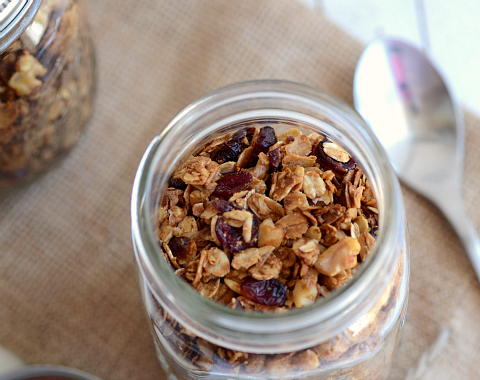 Recipe adapted from Willowbird Baking
Yields about 3 cups of granola
Ingredients:
3 cups rolled oats
1/4 cup honey
2-1/2 tablespoons butter
1 tablespoon vanilla extract
2/3 cup craisins
1/4 cup chopped walnuts
1/4 cup white chocolate chips
Directions: 
Heat oven to 300 degrees F. In a small saucepan over medium heat, cook honey, butter and vanilla until mixture is melted and simmering, about 3 minutes. In a large mixing bowl, mix the oats, craisins, chocolate chips and walnuts together.
Pour honey mixture over the oat mixture, stirring well with a wooden spoon until fully combined. Line a baking sheet with greased parchment paper and line the parchment paper with the granola mixture.
Bake for about 10 minutes, and then stir the granola and bake another 10 minutes. Stir again and bake an additional 10 minutes. Mixture will take about 30-40 minutes until it's fully toasted.
Store in an airtight jar until you're ready to serve.
Cinnamon grape nuts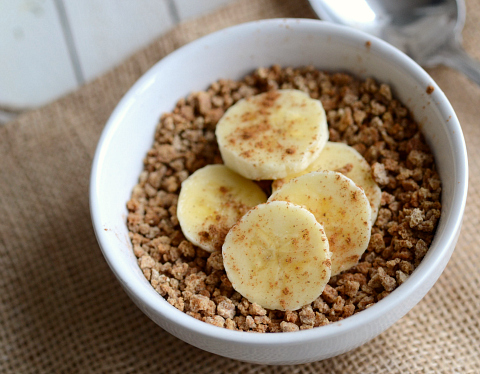 Recipe adapted from Taste of Home
Yields about 2-1/2 quarts
Ingredients:
3-1/2 cups whole wheat flour
1-1/2 cups packed brown sugar
1 teaspoon baking powder
1 teaspoon vanilla, maple or almond extract
3 tablespoons butter, melted
1-1/4 cups low-fat buttermilk
1-1/2 tablespoons cinnamon
Dash of salt
Directions: 
Preheat oven to 350 degrees F. Mix the flour, brown sugar, baking soda, cinnamon and salt in a large mixing bowl. Add the buttermilk, butter and vanilla and mix with a wooden spoon. Spread the mixture into about 3 separate 9 x 13-inch greased baking pans.
Bake mixture for about 35 minutes and then cool on wire racks. Reduce heat to 250 degrees F and break the pieces into bite sizes. Place the pieces into a food processor and pulse until small pieces form. Then, return to baking sheets and bake for 1 hour or until light brown and crisp. (Be sure to stir the mixture every 15 minutes to ensure the cereal doesn't burn).
Store in an airtight jar and serve with milk.
More homemade breakfast recipes
Homemade breakfast pizza
Tasty recipes to make with kids
Homemade strawberry rhubarb jam recipe