Vegetarian roasted red pepper bagel sandwich
Try a fresher, healthier alternative for lunch with this roasted red pepper bagel sandwich with a light smear of flavored cream cheese and loads of garden-fresh veggies. You definitely won't miss the meat.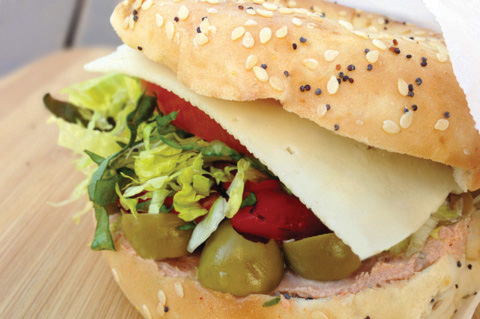 It's hard to get on board with vegetarian food when you're a meat-and-potatoes family. This vegetarian bagel sandwich has all the hearty bite you're used to with none of the meat. The only question now is, what are you waiting for?
Vegetarian roasted red pepper bagel sandwich recipe
Serves 4
Ingredients:
4 everything bagels (water bagels are best)
4 ounces cream cheese
1/8 cup sun-dried tomatoes in oil (plus 1 teaspoon of the oil)
4 leaves romaine lettuce, finely chopped
4 slices tomato
8 slices sweet roasted red peppers in vinegar brine
1/4 cup pimento-stuffed green olives, halved
4 slices provolone
Directions:
Slice the bagels in half lengthwise. Toast if desired.
In a blender, combine the sun-dried tomatoes and oil and blend until pureed. Add the cream cheese and pulse until well mixed.
Spread each half of each bagel with cream cheese.
Top the bottom half of the cream cheese-spread bagel with a layer of lettuce, tomato, red pepper, green olive and provolone and top with the other bagel half.
More family-friendly sandwich ideas
5 Healthy sandwich night ideas
Burnt ends grilled cheese sandwich ideas
3 Grilled cheese sandwich recipes