Homemade strawberry toaster pastries
What kid doesn't love those high fructose, loaded with preservative pop tarts and pastries that come in a box? Allow your kids their favorite breakfast treat without sugar overload with this healthy homemade strawberry toaster pastry recipe!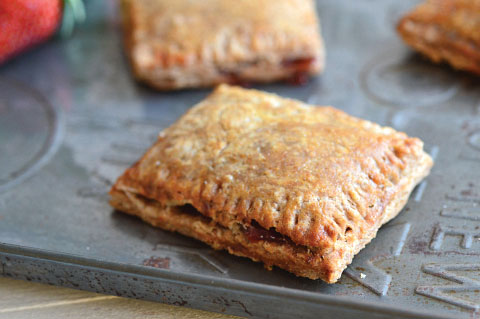 These easy homemade pop tarts are made with real jam and whole wheat flour, not weird ingredients you can't pronounce. The crust is perfectly flaky so each tart almost tastes like a hand pie!
Homemade strawberry toaster pastries
Recipe adapted from Bake at 350
Yields about 6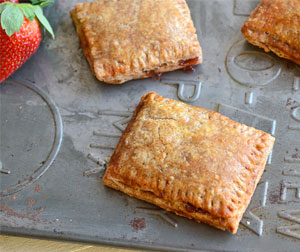 Ingredients:
1-1/2 cups whole wheat flour
1 cup all-purpose flour
Dash of salt
2 tablespoons sugar
1 cup (2 sticks) cold butter, cut up
6-8 tablespoons ice water
1 egg white
Strawberry jam (about 1/4 cup)
Directions: 
In a large mixing bowl, mix the flours, salt and sugar together. Using a pastry cutter, cut in the butter pieces until the mixture resembles small peas. Add cold water, 1 tablespoon at a time, until a soft dough forms. Form a disc with the dough and wrap in plastic wrap. Chill for at least an hour.
Once chilled, roll the dough to about a 1/8-inch thickness. Using a pizza cutter or pop tart cutter, cut out about 12 rectangles. Place 1 tablespoon of jam into the center of half the rectangles and top the jam with another rectangle of dough. Using a fork, push down the edges around the pastries to close them (which will prevent the jam from spilling out).
Using a pastry brush, brush the tops of the pastries with egg whites. Place on a parchment lined baking sheet and chill for about 30 minutes.
Once chilled, preheat the oven to 350 degrees F. Bake the pastries for about 30 minutes, or until flaky.
More homemade breakfast treats
Challah French toast with warm apples and cinnamon
Quick and easy cereal treats
5 Fresh kid-friendly breakfast ideas