Peanut butter banana bites recipe
An easy-peasy snack for kids of any age! Ripe bananas are simply sliced and filled with peanut butter and rolled in coconut or mini chocolate chips. Not only are these great for satisfying a sweet tooth for us moms, but they are portable, healthy and make kids happy.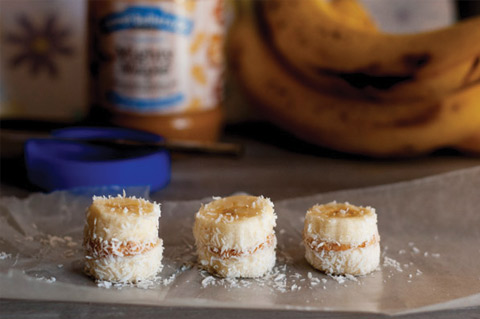 These peanut butter banana bites are delicious! A ripe banana smeared with creamy, nutty peanut butter is a flavor combo that never gets old. If you want to make these extra fun, try rolling the bites in either shredded coconut or tiny mini chocolate chips. Kids will never know these treats are healthy!
Peanut butter banana bites recipe
Yield 4 servings
Ingredients:
2 extra-large very ripe bananas, thickly sliced
1/4 cup peanut butter (almond butter is also wonderful)
1/4 cup shredded coconut (optional)
1/4 cup mini chocolate chips (optional)
Directions: 
Take a banana slice, add a little dollop of the peanut butter, and top with a second banana slice. Gently press down to "squish" the bites together so a little bit of the peanut butter oozes out from the sides.
In a small bowl, add the shredded coconut or the chocolate chips (if using). Gently roll the banana bites in the coconut or in the chocolate chips. Repeat with remaining banana slices.
Serve immediately.
More healthy snack ideas
Simple healthy snacks for moms
Healthy family snack ideas
Snacks that won't wreck your diet