Easy baked mozzarella sticks with zesty marinara recipe
Who doesn't love those deep fried mozzarella sticks at popular restaurants? We do, but what we don't love is how fattening and high in calories they are. In this version, we lightly coat them in a breadcrumb mixture and bake rather than fry. Dip them in the fresh and zesty tomato marinara sauce and never feel guilty about eating these again!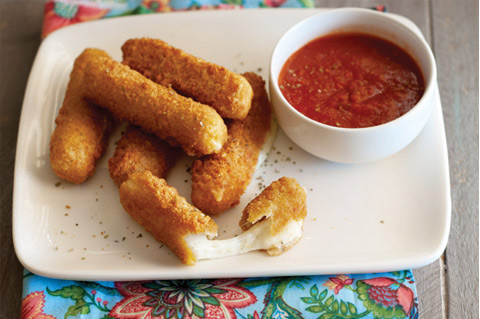 We love mozzarella cheese sticks, but let's face it — there isn't anything healthy about deep fried pieces of cheese. Here we use part-skim mozzarella sticks and coat them in a mixture of crunchy breadcrumbs, tangy Parmesan cheese and Italian herbs. No matter what, this recipe surely won't disappoint and your waistline will thank you!
Easy baked mozzarella sticks with zesty marinara sauce recipe
Inspired by Skinnytaste
Yield 12 servings
Ingredients:
For the cheese sticks:
12 part-skim mozzarella cheese sticks (such as Sargento brand)
1 egg, beaten
2 tablespoons all-purpose flour
1/4 cup Italian style breadcrumbs
1/4 cup panko style breadcrumbs
2 tablespoons freshly grated Parmesan cheese
1 teaspoon garlic powder
1 tablespoon dried Italian herbs
A pinch of salt and pepper for taste
Cooking spray
For the zesty marinara sauce:
1 lemon, zested
1 cup jarred marinara sauce
1-1/2 teaspoons crushed red pepper flakes
Directions:
Unwrap all of the cheese sticks and place them in the freezer until they are frozen. In 1 small bowl, add the beaten egg, and in a second bowl, add the flour. Finally, in a third bowl, add the breadcrumbs, cheese and seasonings.
Preheat your oven to 375 degrees F. Begin dipping the frozen cheese sticks 1 by 1 into the flour, the egg mixture and then roll in the cheesy breadcrumb mixture. Gently tap to remove any excess coating and lay on a baking sheet lined with parchment paper or aluminum foil sprayed with cooking spray. Repeat this for the remaining bread sticks.
Bake the cheese sticks about 5 minutes and then flip them over (carefully) and bake an additional 5 minutes or until nice and golden brown. Remove from the oven and allow to cool for several minutes to help them firm up (they are melted inside so picking them up immediately isn't a good idea).
To prepare the marinara sauce in a bowl, mix all the ingredients together and warm either in the microwave or in a small sauce pot on the stove. Serve warm with the baked mozzarella sticks.
More healthy baked recipes
Black forest baked oatmeal
Baked black bean taquitos
Baked zucchini fries