Homemade frozen yogurt without ice cream maker
Turn your favorite fruit into a healthy frozen yogurt in under an hour!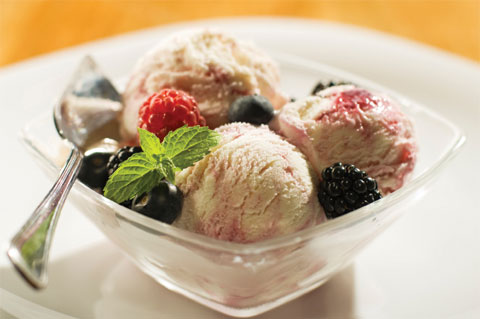 Want to make a homemade treat that is healthy and easy? Look no further, because this is the recipe you will use all year. This is so delicious that you might never want to spend $5 (or more) to buy a single serving of frozen yogurt! Use any fruit that you desire to make this.
Homemade frozen yogurt
Serves 6
Ingredients:
1-1/2 cups Greek vanilla bean yogurt
2 cups frozen fruit (e.g. peaches, mangoes, strawberries, berry mixture, frozen bananas)
1/3 to 1/2 cup sugar (or you may use honey to sweeten mixture instead of sugar)
1 teaspoon vanilla
Directions:
Blend all ingredients in food processor.
Place back in Greek yogurt container, or any plastic container you have, with a lid.
Freeze for 45 minutes to an hour and your soft-serve, delicious frozen yogurt is ready!
More frozen yogurt recipes
Pumpkin frozen yogurt
Peppermint stick frozen yogurt
Strawberry frozen yogurt