Make-and-freeze breakfast burritos
Breakfast burritos can be a challenge when mornings are fast-paced, but these make-and-freeze breakfast burritos are sure to get your family going the right way!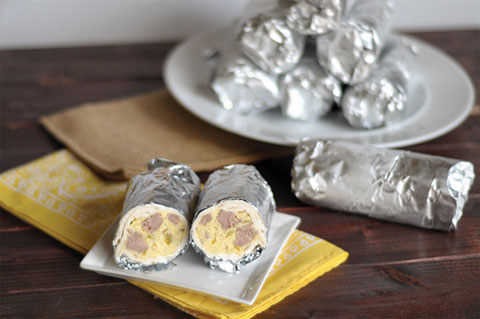 Make-and-freeze breakfast burritos
Makes 10 burritos
Ingredients:
10 (10 inch) flour tortillas
10 whole eggs
1 pound turkey sausage
1 (4 ounce) can chopped green chiles
6 ounces cream cheese, at room temperature
Salt and pepper to taste
10 (12 x 12-inch) squares of foil
Directions:
Heat a large skillet over medium heat.
Add the sausage and cook until brown and crumbly. Drain and return to pan.
Add the green chiles and let cook for 2-3 minutes.
Whisk together the eggs, salt and pepper until smooth.
Pour the eggs over the sausage and chiles.
Cook, stirring constantly, until the eggs are almost done.
Add the cream cheese and stir everything together until the eggs are done and the ingredients are well combined.
Remove from heat.
To build the burritos, place 1 tortilla in the middle of 1 sheet of foil.
Add a tenth of the egg mixture to the middle of the tortilla.
Fold 2 opposite sides of the tortilla over the eggs, and then fold 1 of the other ends over the eggs. Roll tightly to the end.
Wrap tightly in the foil and place in a large freezer bag.
Repeat until all of the burritos are made.
Place in the freezer.
To reheat, place a burrito in the foil in the middle of a cold oven. Turn the oven on to 400 degrees F and set a timer for 40 minutes. It's best to do this as soon as you get up — then the burrito will be ready and waiting for you when you're done getting ready!
Serve hot.
More mind-blowing breakfast burritos
Baked breakfast burritos
Vegan breakfast burritos
Black bean breakfast burritos