Healthier tater tot casserole
Most every kid loves a tater tot casserole! This meatless version slims things down for all to enjoy.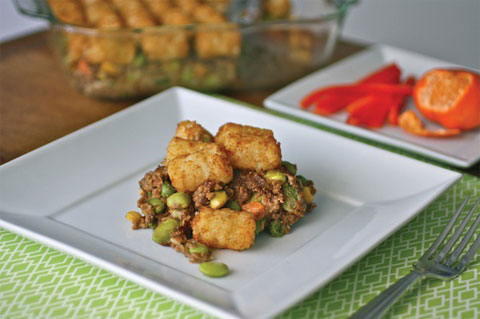 Your family will love this healthier tater tot casserole recipe. This dish is basically a kids' version of a shepherd's pie, just more fun!
Make this dish with textured vegetable protein (TVP) instead of ground beef to keep things on the lighter side. You'll cut out ground beef's fat and cholesterol, but not the flavor. You might know TVP as veggie crumbles, and you might also know that compared with the equivalent amount of ground beef, veggie crumbles have about half the calorie content.
Don't tell the kids what they're missing — they'll enjoy this dish just the same!
Healthier tater tot casserole
Serves 4-6
Adapted from Hungry Girl
Ingredients:
12 ounces veggie crumbles
3-4 cups frozen tater tots
2 cups frozen, shelled edamame
2 cups mixed frozen vegetables
2 cloves garlic, minced
1/4 cup onion, diced
1 (10.5 ounce) can reduced fat cream of mushroom soup
2 teaspoons Worcestershire sauce
1/2 teaspoon ground black pepper
1/4 teaspoon salt
1 tablespoon olive oil
Nonstick cooking spray
Directions:
Preheat your oven to 375 degrees F. Lightly spray an 8 x 8-inch baking dish with the nonstick spray and set aside.
In a large microwave-safe bowl, add 2 tablespoons of water, the edamame and mixed vegetables. Microwave for about 4 minutes, or until the vegetables are warmed through. Drain and set aside.
Spray a large skillet with the nonstick cooking spray. Over medium heat, add the veggie crumbles to the pan. Add the Worcestershire sauce and mix together. Cook the crumbles according to the package directions. Keep warm.
In a large saute pan over medium heat, add the olive oil. When hot, cook the onions for 3-4 minutes, or until they begin to soften. Add the garlic and the cream of mushroom soup, salt and pepper. Mix and cook just until heated through.
Add the vegetables to the soup mixture, and mix to coat.
Add the vegetable mixture to the veggie crumbles, mix well and remove from the heat.
Spoon the mixture evenly into the baking dish, and top with the tater tots.
Bake for about 30-35 minutes.
Serve warm.
More dinnertime recipes
Stuffed spinach and corn packets
Chicken with creamy roasted tomato and basil sauce
Shrimp scampi made easy