3 Low-fat recipes using Bisquick
Think Bisquick is only for your morning pancakes and waffles? Think again! This powdered baking mix can be used for your favorite entrees too! These lower fat recipes are made with Heart Healthy Bisquick, so they are light and good for you!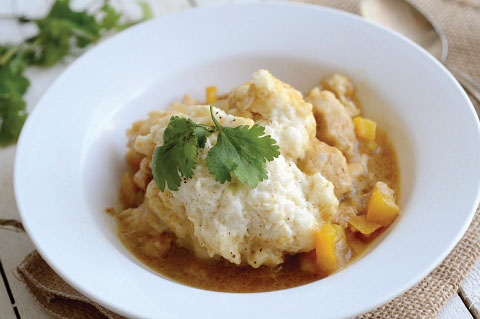 From fluffy biscuits to luscious turkey pot pie to your family's favorite chicken soup with dumplings, these comfort food classics are made lighter and easier with Heart Healthy Bisquick mix! Save time and fat by whipping up one of these for your weeknight dinner.
Spicy chicken chili soup with dumplings
Recipe adapted from Betty Crocker
Serves 5
Ingredients:
1 tablespoon extra virgin olive oil
1 pound boneless, skinless chicken breasts, cut into cubes
1 medium onion, chopped
3 teaspoons chili powder
1/2 bell pepper, chopped
Dash of salt
5 cups low-sodium chicken broth
2 cups Heart Healthy Bisquick mix
2/3 cup low-fat milk
1/2 cup chopped cilantro
Directions: 
In a 3-quart skillet, heat olive oil. Add onions, chicken and bell pepper. Cook for 3-4 minutes, stirring constantly, until chicken is browned. Add broth and bring mixture to a boil. Reduce heat to medium and simmer for about 5 minutes.
In a medium size mixing bowl, mix the biscuit mix, milk and cilantro until a thick dough forms. Drop dough in about 10 spoonfuls onto the simmering soup (try to avoid placing it directly in the liquid). Cook the mixture uncovered for about 10 minutes. Add a cover and cook an additional 10 minutes to really soften up the dumplings.
Parmesan rosemary biscuits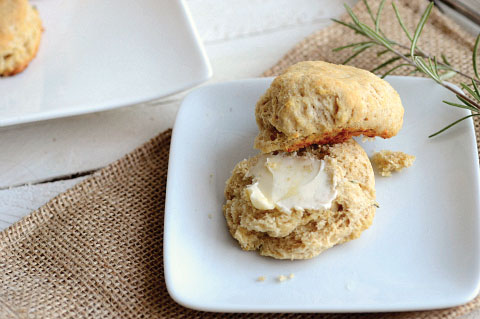 Yields about 8 biscuits
Ingredients: 
2 cups Heart Healthy Bisquick mix
2/3 cup Greek yogurt (nonfat or 2%)
2 tablespoons chopped rosemary
2-1/2 tablespoons shredded Parmesan
2 tablespoons buttermilk
Dash of salt
Directions:
Preheat oven to 425 degrees F. Grease a baking sheet with nonstick cooking spray and set aside.
In a large bowl, mix the biscuit mix, Greek yogurt, chopped rosemary, Parmesan, dash of salt and buttermilk. Stir to combine.
Pour mixture onto a floured surface and knead (with floured hands) about 6 times. Then, using a floured rolling pin, roll the mixture out to 1/2-inch thickness. Fold the mixture in half and roll out again to 1/3-inch thickness. Repeat another 2 times. Using 2-inch rounds, cut out biscuit circles. Place the biscuits 1 inch apart on the greased baking sheet.
Bake for 8-10 minutes, or until biscuits are golden brown.
Vegetarian potpie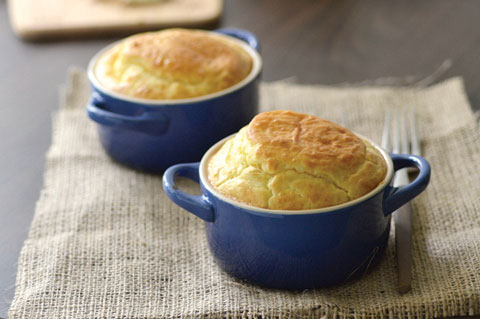 Serves 4
Ingredients:
1-1/2 tablespoons butter
1 medium shallot, chopped
3 cloves garlic, minced
About 1/2 cup chopped mushrooms
6 ounces vegetarian sausage
1 small red pepper, chopped
2 tablespoons oregano
Liberal dashes of salt and pepper
1-1/2 tablespoons all-purpose flour
1/2 cup low-sodium vegetable broth
1/2 cup 1 percent milk
3/4 cup Bisquick mix
1/3 cup + 1 tablespoon 1 percent milk
1 egg
Directions:
Preheat oven to 400 degrees F and arrange a rack to the center of the oven. Grease 4 ramekins with nonstick cooking spray and set aside.
Heat butter in a large 3-quart saucepan over medium heat. Add onions and cook until translucent, about 2 minutes. Add in sausage, garlic, peppers and mushrooms. Heat vegetables for about 4 minutes, or until soft. Stir in flour with a spoon until the vegetables are coated. Cook another 2 minutes. Carefully add in broth and milk. Reduce heat to low and simmer until mixture thickens. Add in salt, pepper and oregano and stir to mix. Remove from heat.
Scoop the vegetable mixture into the ramekins.
In a medium bowl, mix Bisquick, egg and milk together until combined. Scoop biscuit topping onto each ramekin, until the vegetable mixture is fully covered.
Bake for 15-20 minutes, or until crust is golden brown and the filling is bubbly. Enjoy!
More low-fat recipes
Lower fat Paula Deen favorites
Low-fat creamy soup recipes
Low-fat campfire favorites