Spicy rosemary thyme bar nuts
Sweet, spicy and packed with flavor, these homemade rosemary thyme bar nuts will need to be in stock at all times. Perfect for simply snacking or elegant parties, the best part is that you control the ingredients!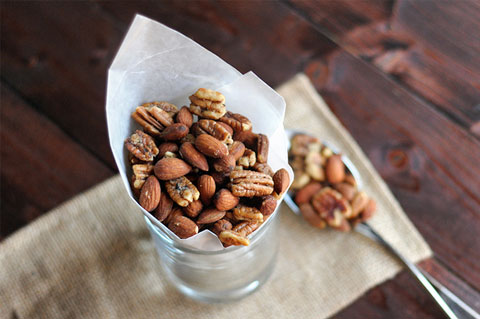 Spicy rosemary thyme bar nuts
Makes 2 cups
Ingredients:
1 cup raw almonds
1 cup raw pecan halves
1 tablespoon light brown sugar
1 tablespoon chopped fresh rosemary
1 tablespoon chopped fresh thyme
1 tablespoon olive oil
1-1/2 teaspoons salt
1/2 teaspoon cayenne pepper
Directions:
Spread the nuts in an even layer on a large baking sheet.
Place them in a cold oven and turn the oven on to 350 degrees F.
Toast the nuts while the oven warms, turning every 5 minutes or so, until they are lightly toasted and fragrant.
Meanwhile, in a small saucepan, stir together the brown sugar, rosemary, thyme, olive oil, salt and cayenne pepper over medium heat just until the sugar is dissolved.
When the nuts are done, pour them immediately into a large bowl and pour the brown sugar mixture over the hot nuts.
Stir until everything is well combined.
Let cool before eating. Serve warm or at room temperature.
More delicious nut recipes
Gluten-free tamari roasted nuts
Deviled nuts
Low-carb candied holiday nuts