BBQ pulled pork calzones
There's nothing like a no-fail barbecue pulled pork recipe, but wrapping it in pizza dough with tons of shredded cheddar and sweet red onions can only make it better! Barbecue pulled pork calzones will be a new dinnertime staple.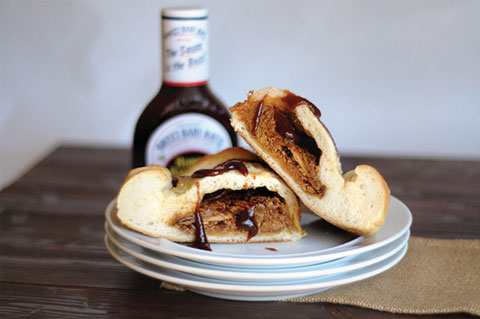 BBQ pulled pork calzones
Makes 4 large calzones
Ingredients:
1 (5 pound) pork loin
1 (18 ounce) bottle barbecue sauce of choice
1 pound prepared pizza dough
1/2 red onion, sliced thinly
1/2 cup shredded cheddar cheese
Directions:
To make the pork, pour half of the bottle of barbecue sauce in the bottom of a slow cooker.
Place the pork loin on top of the barbecue sauce, and then pour the remainder over the top.
Cook on low for 6-8 hours.
Shred the pork and set aside.
To make the calzones, line a baking sheet with parchment paper. Set aside.
Cut the pizza dough in equal quarters.
Using a rolling pin, roll the dough out very thinly in a large circle.
Sprinkle 1/4 of the cheese, 1/4 of the sliced onions and 1/3 cup of the shredded pork on 1 half of each circle, leaving about an inch of room from the edge.
Fold the dough over to make a half moon.
Starting at 1 corner, pinch and twist the sides together to seal the calzone. This should resemble a braid around the edge of the calzone.
Place all 4 calzones on the baking sheet and sprinkle lightly with salt if desired.
Bake at 400 degrees F for about 15-20 minutes until the crust is golden.
Remove from the oven and let sit for about 5 minutes.
Serve hot.
More delicious calzone recipes
Tuna melt calzones
3-Cheese and spinach calzones
Easter olive calzones