Whole wheat cheddar bay drop biscuits
Need the perfect bread to go with just about any meal? Look no further! Whole wheat cheddar bay drop biscuits taste like they took all day to make, but you can have them on the table in mere minutes.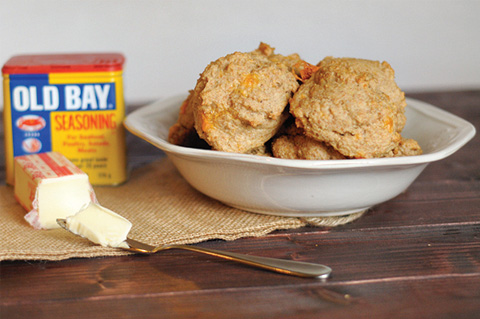 Whole wheat cheddar bay drop biscuits
Makes 24 biscuits
Ingredients:
2 cups whole wheat pastry flour
8 tablespoons cold butter, cubed
1/2 cup cold shredded cheddar cheese
1 tablespoon Old Bay seasoning
1 teaspoon baking powder
1 cup cold nonfat milk
Directions:
Preheat oven to 400 degrees F. Line a baking sheet with parchment paper and set aside.
In a food processor, pulse together the flour, Old Bay seasoning and the baking powder.
Add in the cubed butter and pulse 4-5 times until the butter is about pea-sized.
Add the cold cheddar cheese and pulse 2-3 times.
Pour in the milk and pulse until combined.
Using a large spoon, drop 24 biscuits on the prepared baking sheet.
Bake for 15-17 minutes until the bottoms are golden and the biscuits are baked through.
Serve hot.
More satisfying biscuit recipes
Sweet potato rosemary biscuits
Cheesy jalapeno biscuits
7-Up biscuits