Homemade heart donuts
Show your kids you love them this Valentine's Day with a big batch of homemade heart-shaped donuts for breakfast! These fluffy, cake-like donuts taste like the kind you buy at the bakery, just with half the fat and calories since they are baked, not fried!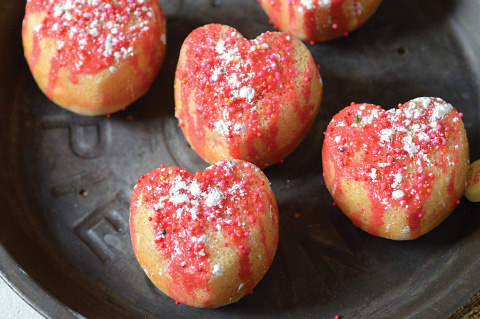 These baked, fluffy donuts are fun to make too, so enlist your kids' help as you frost and decorate! Fun sprinkles and glaze add a cute, donut shop look. You can also fill these with your favorite frostings, jams or creams!
Homemade heart donuts
Yields about 12 donuts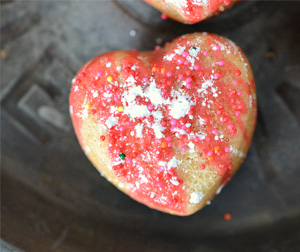 Ingredients:
2 cups all-purpose flour
2 teaspoons baking powder
2/3 cup white sugar
1 teaspoon cinnamon
3/4 cup buttermilk
2 eggs, lightly beaten
1 tablespoon canola oil
1 teaspoon vanilla
For the glaze:
1 cup powdered sugar
2 tablespoons milk
1/2 teaspoon vanilla
Sprinkles or food coloring
Directions:
Preheat oven to 350 degrees F. Liberally grease a heart-shaped tin with nonstick cooking spray.
In a large mixing bowl, mix the flour, baking powder, sugar and cinnamon together. Make a well in the center of the dry ingredients.
In another bowl, mix the oil, buttermilk, eggs and vanilla. Pour the wet ingredients into the center of the dry ingredients and stir to combine.
Pour mixture into the heart cavities about 3/4 of the way full. Bake for about 8-10 minutes, or until cakes are golden brown and a toothpick inserted in the middle comes out clean. Place donuts on a wire cooling rack.
While donuts cool, prepare frosting by mixing the sugar, milk and vanilla together. If you want to make the frosting a fun color, add the food coloring now. Once donuts have cooled, drizzle the glaze over the tops. Add fun sprinkles and enjoy!
More fun donut recipes
Orange cranberry donut recipe
Sweet potato baked donuts
Snowman donut faces recipe