Peppermint Pattie brownies
Chocolate and mint are supposed to go hand in hand, right? These sweet, minty, fudgy brownies say YES!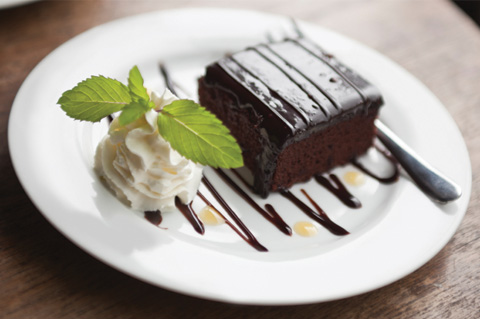 Childhood memories of Peppermint Patties go swirling in your mind when you bite into this brownie with a Peppermint Pattie center. Let the kids help you place the candies on top of the batter, and then pour the remaining batter on top! A delightfully cool, sweet surprise in the center!
Peppermint Pattie brownies
Serves 8-10
Ingredients:
1 cup sugar
2 tablespoons water
6 tablespoons butter
1 (3.5 ounce) good quality dark chocolate bar, chopped
2 eggs
1 teaspoon vanilla extract
1 teaspoon peppermint extract
1 cup all-purpose flour
1 cup semisweet chocolate chips
Pinch of salt (about 1/2 teaspoon)
8-9 miniature Peppermint Pattie candies
Powdered sugar (to sift for topping, optional)
Directions:
Combine sugar, water and butter in a heavy (thick bottom) saucepan.
Bring to a boil, stirring constantly.
Remove from heat and stir in chopped chocolate bar until smooth.
Let cool for about 5 minutes, and then add eggs, one at a time. (You want your chocolate mixture cooled so that when you add the eggs, they do not scramble. Keep stirring the mixture when you add eggs, so they do not scramble).
Stir eggs until blended, and then add peppermint and vanilla extracts.
Combine flour and salt, and then stir in chocolate chips. Add to brownie batter, stir to combine.
Place parchment paper in brownie pan (9 x 9-inch pan) so that it's hanging over the sides and lightly spray. (The parchment paper allows for you to just lift the brownies out of the pan, no mess!)
Pour half of batter down, and then place Peppermint Patties on top. Pour remaining batter on top of candies.
Bake at 350 degrees F for 23 to 25 minutes.
Sift powdered sugar over the top.
To perfectly cut brownies, use a plastic knife. Works like a charm!
Try these other brownies
Red wine brownies
Fudge mocha brownies
Marriage of chocolate and mint recipes