BLAST wraps
Bacon, Lettuce, Avocado, Salmon and Tomato — a powerhouse of fabulous ingredients can only lead to one fantastic BLAST wrap for a delightful lunch or a simple dinner!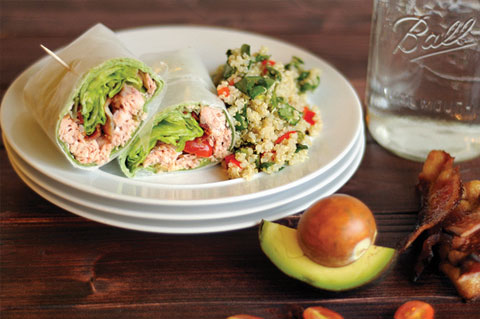 BLAST wraps
Makes 4 wraps
Ingredients:
4 (4 ounce) salmon filets, skin on
4 (12 inch) spinach tortillas
2 whole avocados
2 Roma tomatoes, sliced
Juice of 1 lime
Salt
Pepper
Directions:
Preheat oven to 400 degrees F.
Place the salmon skin side down in a shallow baking dish. Sprinkle with salt and pepper.
Roast salmon for about 10-12 minutes until just cooked all the way through. Set aside to cool.
While the salmon is cooling, cook the bacon in a large skillet over medium heat until crisped. Set aside to cool and drain on a paper towel.
Mash the avocados with the lime juice and season lightly with salt and pepper.
To put the wraps together, heat the tortillas slightly in the microwave, about 10 seconds per tortilla.
Spread with 1/4 of the mashed avocado mixture.
Layer the tomatoes on top of the avocado.
Layer the bacon on top of the tomatoes.
Take each salmon filet and flake the fish over the bacon.
Top the salmon with 1-2 pieces of lettuce.
To roll the wraps, fold 2 of the sides of the tortilla in toward the middle.
Roll 1 of the unfolded sides over the ingredients and tuck it tightly underneath.
Roll tightly to close.
Cut in half for easier eating.
More healthy salmon recipes
Tandoori salmon
Salmon tostada salad
Grilled bourbon-soy salmon