Swedish meatball burgers
All of the deliciousness of a traditional Swedish meatball in burger form. Swedish meatball burgers are interesting, flavorful and comforting, all in one bite!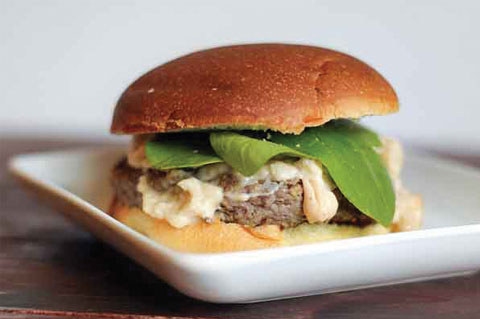 Swedish meatball burgers
Makes 4 burgers
Ingredients:
1 pound ground beef
1/2 red onion, grated
2 cloves garlic, minced
1/3 cup milk
1/3 cup fresh breadcrumbs
1 whole egg
1 teaspoon salt
1/2 teaspoon pepper
1/2 teaspoon nutmeg
1/2 teaspoon cardamom
3 tablespoons butter
3 tablespoons flour
1 tablespoon apple cider vinegar
2 beef bouillon cubes
2 cups milk
1 tablespoon cranberry sauce
4 hamburger buns
Directions:
In a large bowl, mix together the grated onion, minced garlic, 1/3 cup of milk, egg, breadcrumbs, salt, pepper, nutmeg and cardamom until well combined.
Using clean hands, break the ground beef apart and mix into the wet mixture until completely combined. Mixture will be fairly wet, but that is OK!
Let the ground beef mixture sit for about 10 minutes while you heat a grill, skillet or grill pan over medium heat.
Divide the beef mixture into 4 even patties, about 3/4- to 1-inch thick.
Spray the heated pan with nonstick spray and place the patties evenly over the pan. Cook for about 5 minutes on each side, or until cooked all the way through.
Meanwhile melt the butter in a large skillet over medium heat.
Once the butter is melted, add in the crushed bouillon cubes and whisk together.
Add the flour and whisk together. Let the flour and butter cook together for about 1 minute.
Whisking constantly, stir in the milk and vinegar and bring the mixture to a simmer.
Let simmer for about 5-10 minutes until it forms a thick gravy. Remove from the heat and stir in the cranberry sauce.
To serve, place a hamburger patty on a bun and cover with desired amount of gravy.
Serve hot.
More unusually delicious burger recipes
Salmon burgers with homemade tartar sauce
Black bean veggie burgers with corn salsa
Alen's spicy sausage burgers