Pretty in pink macarons
Love those fancy French macarons you see at your favorite bakery? Before you spend over $10 on two colored cookies, check out this foolproof recipe first and make your own!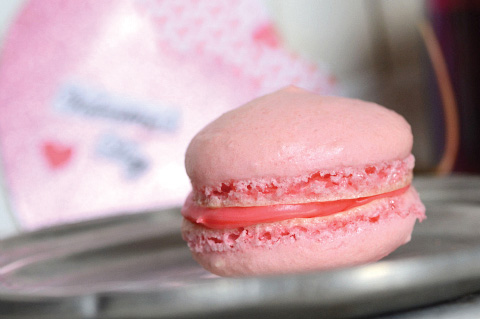 With just a handful of ingredients and 20 minutes, you can have a Laduree-style pretty in pink macaron to enjoy this Valentine's Day. These make perfect gifts for your hubby, daughter or better yet, yourself!
Pretty in pink macarons
Recipe adapted from Martha Stewart
Yields 12 cookies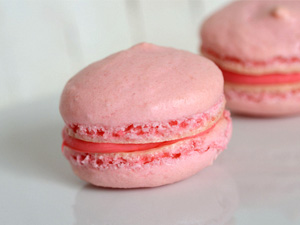 Ingredients:
For the cookies:
3 egg whites, room temperature
2/3 cup almond meal or ground almonds
1-1/2 cups powdered sugar
5 tablespoons white sugar
1 teaspoon vanilla extract
Red food coloring
For the filling:
1-1/2 cups egg whites
1/2 cup sugar
1/2 cup (1 stick) butter
Directions:
To make the cookies, preheat oven to 280 degrees F. Line a baking sheet with parchment paper and spray the paper with nonstick cooking spray. Set aside.
In a chilled mixing bowl, beat the egg whites with an electric mixer. Once they start to foam, add white sugar, 1 tablespoon at a time. Add vanilla and red food dye after you add the sugar. Beat the egg whites and sugar until the mixture forms a stiff peak when lifted from the mixer, about 10-12 minutes of beating.
Sift the powdered sugar and almond meal together with a wire mesh strainer at least twice. Once strained, fold about half of the mixture into the egg whites. You want to use a spatula when you do this and you need to fold from the bottom. Once mixture is folded in, add remaining almond/sugar and fold. You want the mixture to be fully combined but not over mixed.
Once folded, pat the mixture down with a spatula and then fold again from the bottom. Repeat this at least 3 times (it will add some more air to the batter). You want the batter to have a molten lava type look and texture.
Put a 0.4-inch tip onto your pasty bag or Ziploc. Pour batter into it. Pipe circles onto the parchment paper. Try to keep the sizes the same so you can have uniform cookies.
Once done, hold the pan with both hands and hit it against the counter firmly. Repeat this about 3-4 times. Don't skip this step or you won't get the "feet" at the bottom of the cookie. Let rest for about 15 minutes.
Once rested, bake cookies for about 16 minutes. Let cool slightly on the pan and then remove using a metal spatula and place on a cooling rack.
To prepare filling, whisk egg whites and sugar together in a bowl. Set the mixer over a saucepan of simmering water and heat mixture, whisking often, until sugar is dissolved, about 3 minutes.
Pour mixture into a mixing bowl and whisk until soft, about 3-5 minutes. Add the butter, piece by piece, until fully incorporated.
Spread filling on the bottom of one macaron and place another macaron on top to make a sandwich.
More Valentine's Day dessert recipes
Healthy Valentine's Day treats
3 Easy Valentine's Day treats
Brownie bites