Groundhog Day cupcakes
Have a little fun this Groundhog Day by whipping up these adorable cupcakes! Even though these cute little cupcakes look like groundhogs, you can't blame them if we get six more weeks of winter!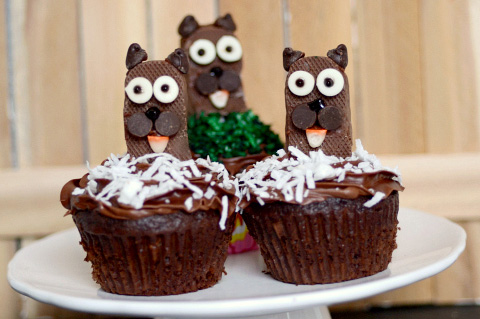 Your kids will love helping you make these, so enlist their help in the kitchen. They may look complicated, but the cute little groundhogs are super easy to make. All you need are some decorative gels, chocolate chips, icing and Almond Joy candy bars! These fun desserts are perfect for school parties or after-school snacks.
Groundhog Day cupcakes
Recipe adapted from Spoonful
Yields 12 cupcakes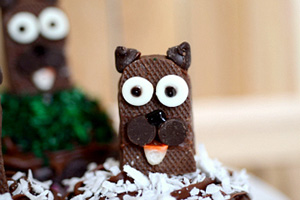 Ingredients:
1 box chocolate cake mix (plus ingredients for the mix)
1 can Pillsbury chocolate frosting
About 1 cup coconut flakes
6 Almond Joy candy bars
Candy corn
White chocolate chips
Semisweet chocolate chips
Black icing gel
Toothpicks
Green food dye
Directions: 
Preheat oven to 350 degrees F. Line a muffin tin with cupcake liners and set aside.
Stir the cake mix with the ingredients you need until smooth (no lumps). Fill the cupcake liners about 3/4 of the way full with batter. Bake for 18-20 minutes, or until a toothpick inserted in the middle comes out clean.
Remove cupcakes from the pan and let cool completely. Once cooled, frost all of them with chocolate frosting. Cover half of them in shredded coconut.
In a bowl, mix the rest of the coconut with the green food dye until you get a bright green color. Top the remaining cupcakes with green coconut, using a spoon so you don't dye your hands.
To make the groundhogs, cut the tips off the white chocolate chips. Using the chocolate icing, glue the white chocolate chips (cut side down) onto the back of an Almond Joy piece (these will be the eyes). Using the black icing gel, make 2 dots in the center for the pupils. To make the cheeks, remove the tip from chocolate chips. Using the icing, glue the chips, cut side down, in the middle of the bar. Glue 2 right next to each other. Using the black icing gel, make a circle above the middle for the nose. To make the teeth, cut off the white part of the candy corn. Stick it underneath the nose. Glue 2 semisweet chocolate chips to the top of the candy bar for eyes.
Stick a toothpick into the center of the groundhogs and then stick them into the cupcakes.
More fun cupcake recipes
Owl cupcakes recipe
Fourth of July red, white and blue cupcakes recipe
Turkey decorated cupcakes