Bacon and cream cheese biscuits
Bump up that ordinary breakfast with a truly decadent biscuit that won't disappoint. Serve these bacon and cream cheese biscuits with a side of eggs and gravy or with a fried egg for a simple on-the-go breakfast.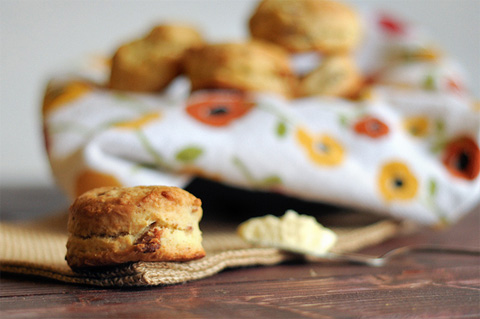 Bacon and cream cheese biscuits
Makes 16 biscuits
Ingredients:
2-1/4 cups all-purpose flour
1-1/2 teaspoons brown sugar
2 teaspoons baking powder
1 teaspoon baking soda
1/4 teaspoon salt
4 tablespoons cold butter, cubed, plus 1 tablespoon butter, melted
2 ounces regular cream cheese, cubed
3/4 cup cold buttermilk
4 slices thick-cut bacon
Directions:
In a large skillet over medium heat, cook the bacon until crisp. Let the bacon slices cool on a paper towel, and then chop. Set aside.
Preheat the oven to 450 degrees F.
Line a baking sheet with parchment paper. Set aside.
In a food processor, pulse together the flour, sugar, baking powder, baking soda and salt.
Add the cubed butter and cubed cream cheese. Pulse the mixture until slightly crumbly, about 4-5 pulses.
Pour in the buttermilk. Pulse 4-5 times until the entire mixture comes together. The dough will be wet.
Add the chopped bacon and pulse 4-5 times to equally distribute the bacon pieces.
Lightly flour the counter and dump the dough onto the flour. Lightly knead for about 30 seconds, and then pat the dough to 1/2-inch in thickness.
Using a 1-1/2-inch biscuit cutter, cut out biscuits and place them on the prepared baking sheet. Brush with melted butter.
Bake for 12-15 minutes until golden brown.
Let cool for 3-5 minutes before serving.
More breakfast treats
Beer biscuit muffins
Puff the magic pancakes
Whole grain cinnamon waffles