Homemade spinach spaghetti
Can't get your kids to eat their spinach? Instead of reverting to force feeding, grounding or the addition of Velveeta, why not stick to a food you know they already love? This spinach spaghetti is loaded with all the health benefits of spinach and tastes like regular noodles under meatballs and marinara!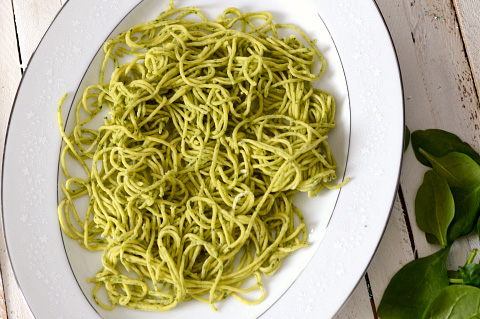 Super picky eaters? Tell them this spaghetti has magical powers, which is why it's green and not pale yellow. Or simply hide the spinach under your kids' favorite sauces, like marinara or cheesy alfredo. Don't let the thought of homemade pasta scare you. With the help of our KitchenAid attachment, this was ready in less than an hour!
Homemade spinach spaghetti
Recipe inspired by Food Network
Serves about 6
Ingredients: 
2/3 cup fresh spinach
3-1/2 cups all-purpose flour
1 teaspoon sea salt
1/2 teaspoon Italian seasoning
6 large egg yolks
1 egg
1 tablespoon extra virgin olive oil
2 tablespoons grated Parmesan cheese
Black pepper
Directions: 
In a large food processor, pulse the spinach, flour, sea salt, Italian seasoning and Parmesan cheese. Gradually add egg, olive oil and egg yolks, one at a time, until mixture resembles coarse, wet sand. Remove from the food processor. Add a little water if the dough is too dry to form into a cohesive dough.
Place dough on lightly floured surface. Knead with floured hands until smooth and elastic. Separate the dough into handfuls and flatten to about 1/4-inch thick pieces.
Attach your spaghetti pasta attachment to your Kitchen Aid mixer. Carefully put the pasta through the machine until it comes out as thin spaghetti noodles. Repeat until all pasta has been done. Place on a drying rack and let dry for about 30 minutes.
Once dried slightly, bring a large pot of water to a boil with salt. Add pasta and cook until al dente, about 3 to 4 minutes. Serve with your favorite sauces and enjoy!
More homemade pasta recipes
Homemade sweet potato gnocchi with a Gruyere cream
White wine and mushroom pasta recipe
How to make homemade pasta