Sticky molasses and soy glazed chicken wings
Stop spending entirely too much money ordering wings for the Super Bowl and make your own instead. Not only are these homemade sticky molasses and soy wings much cheaper, they taste 100 percent better too! The sweet and salty flavors make these an easy crowd-pleaser for any taste buds.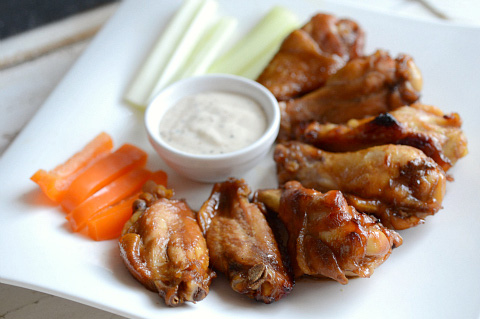 The addition of molasses, honey and brown sugar offer the perfect amount of sweetness to combat the salty soy sauce and spicy sriracha. Your kids will love the sweetness of the wings while your husband will love that they were made at home (and saved money)!
Sticky molasses and soy glazed chicken wings
Recipe adapted from Group Recipes
Serves about 6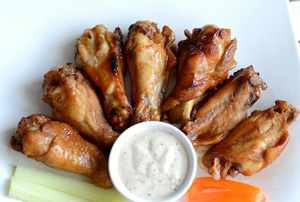 Ingredients:
3 pounds chicken wings, thawed (if frozen)
About 1 cup soy sauce
1/2 cup molasses
1/2 cup honey
1/4 cup brown sugar
1 teaspoon sriracha sauce
1/2 teaspoon garlic powder
1/2 teaspoon onion powder
Salt and pepper
Directions: 
Whisk the soy sauce, molasses, honey, brown sugar, sriracha, garlic and onion powders and salt and pepper together in a mixing bowl. Separate the mixture into two bowls. Pour the wings into the mixing bowl with 1/2 the sauce and swish it around to cover. Wrap the bowl in plastic wrap and chill for at least an hour to marinade.
When done marinating, preheat the oven to 375 degrees F. Place the wings in a baking dish and coat with 3/4 of the remaining sauce (leaving 1/4 for when they are done). Bake for about 45 minutes. Coat the wings with the remaining sauce and bake another 8 - 10 minutes.
Remove from the heat and cool. Serve with blue cheese or Ranch and enjoy!
More Super Bowl recipes
Fancier Super Bowl appetizers
Buffalo chicken dip recipe
Bite-size Super Bowl desserts