Healthy cheesy chicken
Creamy, cheesy chicken was never this healthy. Greek yogurt is a surprise ingredient in this go-to chicken dish, upping the protein and the flavor without all the fat!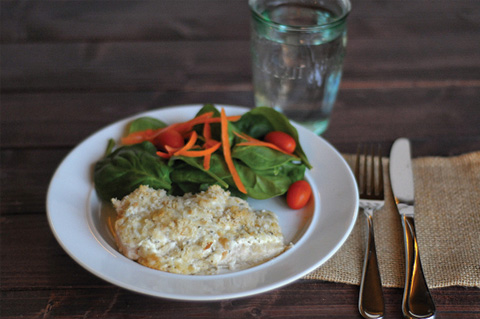 Healthy cheesy chicken
Serves 4
Ingredients:
4 (6 ounce) chicken breasts
1/3 cup plain nonfat Greek yogurt
1/3 cup freshly grated Parmesan cheese
1/4 cup plain breadcrumbs
2 tablespoons mayonnaise
2 teaspoons Italian seasoning
1 teaspoon salt
1/2 teaspoon pepper
Directions:
Preheat oven to 400 degrees F. Spray a baking pan with nonstick spray.
Place all 4 chicken breasts in the prepared pan.
In a small bowl, stir together all ingredients except the breadcrumbs.
Spread the yogurt mixture evenly on top of all 4 chicken breasts.
Sprinkle the breadcrumbs evenly across the chicken breasts.
Bake for 20-25 minutes until the chicken is cooked through and the breadcrumbs are golden brown.
Let sit for 5 minutes before serving.
Serve hot.
More genius weeknight chicken recipes
BBQ chicken casserole
Honey chipotle and lime grilled chicken kebabs
Zesty oven-fried chicken