Greek shrimp orzo salad
One pot for cooking and a bowl for chilling the salad — that's all that stands between you and a fantastic dish that will feed an army! Greek shrimp orzo salad will be your new go-to for any time of year.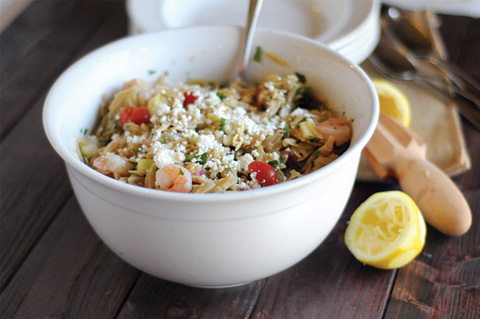 Greek shrimp orzo salad
Serves 8
Ingredients:

3/4 pound dried orzo pasta
2 pounds raw medium shrimp, peeled and deveined
1 cup chopped red onion
1 cup sliced grape tomatoes
1 cup peeled and chopped cucumber
1 cup chopped parsley
1/2 cup chopped fresh dill
1/4 cup lemon juice
1/4 cup olive oil
1-1/2 teaspoons salt
1 teaspoon black pepper
1/2 cup crumbled feta cheese
Directions:
Fill a large pot with water and bring to a boil.
Cook the orzo according to package directions until al dente, about 8 minutes.
When the orzo is almost done, add the shrimp to the boiling water to allow it to cook with the pasta, about 2 minutes.
When the shrimp and orzo are done, drain thoroughly and return to the cooking pot.
Drizzle the pasta and shrimp with the olive oil and lemon juice and toss to coat.
Add the onion, tomatoes, cucumber, parsley and dill to the pot and stir to combine.
Season with the salt and pepper.
Cover and refrigerate until totally chilled, about 4 hours.
Right before serving, sprinkle the crumbled feta on top of the pasta salad.
Serve cold.
More over-the-top pasta salads
Deli pasta salad
Summer creamy pasta salad
Wagon wheel pasta salad with creamy lemon dill dressing