Chili roasted root vegetables with poblano pesto
It's easy to increase vegetable consumption when vegetables taste delicious! Chili roasted root vegetables with poblano pesto will make the entire family beg for more, and they'll never know there's no meat!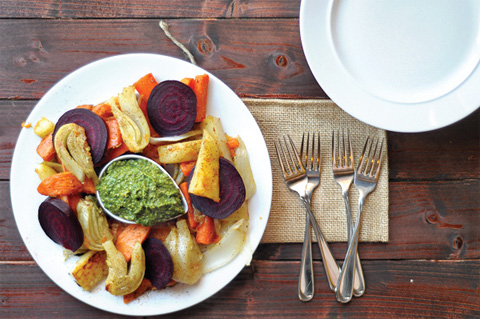 Chili roasted root vegetables with poblano pesto
Serves 6
Ingredients:
3 large carrots, peeled and cut into 3-inch pieces
2 fennel bulbs, tops removed and cut into 8 pieces per bulb
3 small beets
1 russet potato
1 sweet potato
1 whole yellow onion
1/2 cup olive oil, divided
1 tablespoon salt
1/2 tablespoon pepper
2 teaspoons chili powder
2 whole poblano peppers
2 cups packed baby spinach
1/4 cup toasted whole almonds
1/3 cup Parmesan cheese
1 tablespoon lemon juice
2 cloves garlic
Directions:
Move an oven rack to the very top setting and preheat the oven to broil.
Wash the poblano peppers and dry, and then set them on a small sheet pan lined with foil for easy cleanup.
Slide the poblanos under the broiler and char them on all sides.
Carefully put the poblanos in a large bowl and cover with plastic wrap. Let them steam for about 10 minutes, and then carefully remove the charred skins and seeds. Set aside.
Turn the oven to 400 degrees F. Spray a large sheet pan with nonstick spray and set aside.
First roast the beets by wrapping each beet in foil, placing in a small pan, and roasting at 400 degrees F for 60 minutes. Set aside and allow to cool before slicing.
In a large bowl, toss the carrots, fennel, russet potato, sweet potato and yellow onion in 1/4 cup of the olive oil.
Spread on the prepared sheet pan and sprinkle evenly with the salt, pepper and chili powder.
When the beets are done, roast the other vegetables at 400 degrees F for 40 minutes, stirring twice during the cooking process.
While the vegetables are roasting, combine the roasted poblanos, baby spinach, almonds, Parmesan, lemon juice and garlic in a food processor. Pulse 4-5 time to coarsely chop.
With the food processor running, stream in the remaining 1/4 cup of olive oil until a thick pesto forms.
When the vegetables are done roasting, remove the beets from their foil packages. The skin will slide off easily, and then slice them in 1/4-inch slices. Serve with the roasted vegetables and top with the poblano pesto.
More filling vegetarian meals
Vegetarian pumpkin with rice stuffing
Mushroom and onion vegetarian tacos
Roasted vegetable gratin