Juicy Lucy sliders with homemade buns
Even if you don't hail from Minnesota, you've probably heard of the Juicy Lucy. This monster burger is made by sandwiching slices of American cheese in between two hamburger patties and cooking until the cheese is gooey and melted. Since one regular size burger could feed three, we made them into sliders, so they are easier to eat.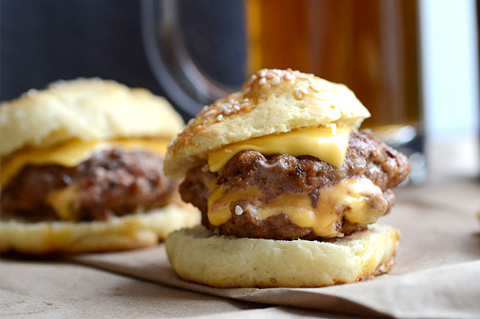 Even though the sliders are incredible, these burgers are made exceptional with the use of homemade sesame seed buns. Making slider buns from scratch only sounds hard, trust us, they couldn't be easier! Forget regular burgers — update that boring weeknight meal with these Juicy Lucy sliders!
Juicy Lucy sliders with homemade buns
Bun recipe adapted from Lauren's Latest
Yields about 8 sliders
Ingredients: 
For the buns: 
2-1/4 teaspoons active dry yeast
1/2 cup warm (110 degrees) water
1 teaspoon sugar
1 egg
1/4 cup butter, melted
1/2 cup light cream
Salt
3-1/3 cups all-purpose flour
1 egg white
Sesame seeds
For the burgers:
1 pound lean ground beef
1 tablespoon Worcestershire sauce
2 tablespoons breadcrumbs
1 tablespoon Italian seasoning
Salt and pepper to taste
About 3 slices American cheese
Directions: 
To make the buns: Mix the yeast, warm water and sugar together in a large mixing bowl. Let sit for 10 minutes, or until the yeast starts to bubble. Mix the melted butter, the cream and the egg together with a whisk until mixed. Pour the egg mixture into the bowl with the yeast. Add about 2 cups of flour and the salt and mix with a spoon. Gradually add the remaining 1-1/3 cup flour until a dough forms. You want it to be soft but still slightly sticky.
Knead the bread slightly on a floured surface until smooth and slightly elastic (about 3 minutes). Oil or butter another mixing bowl. Place the dough in the bowl and cover with a damp towel. Place in a warm spot (I used an oven that was preheated then turned off) for about an hour, or until doubled in size.
Form about 3 golf ball size balls with the dough and place them on a greased cookie sheet. Cover with greased plastic wrap or parchment paper and let rise another 45 minutes, or until doubled in size again.
Preheat the oven to 350 degrees F. Punch the dough down slightly. Brush each bun with the egg white and sprinkle with sesame seeds. Bake the buns for about 13 minutes, or until slightly browned. Turn the oven on to broil and broil the buns another 3 minutes or so, or until golden brown. Remove from the oven and let cool before you slice in half.
To make the burgers: Mix the meat, the Worcestershire, salt and pepper, Italian seasoning and breadcrumbs together until combined. Cut the cheese slices in half, then fourths and then halves again. Set aside.
Form a golf ball size ball with the dough and flatter into a patty. Place about 5 - 7 chunks of cheese into the center of the patties. Top with another patty and squish the edges together so they stick. You may want to roll the patty in a ball and flatten again to ensure the meat sticks together.
Heat a grill on high or heat a nonstick skillet on medium-high heat. Grill/fry the burgers until fully cooked and browned on each side and the middle, about 8 minutes. Top with another slice of cheese and place in between the slider buns.
More unique weeknight dinner recipes
Today's Dinner: Chicken tortellini with a feta cream sauce
Sloppy Joe grilled cheese
Family dinner night: Chili bar with hot dogs