Garlicky mustard wings
Game day deserves food everyone will love. Watch them devour these deliciously flavored and sauced garlicky mustard wings in seconds flat!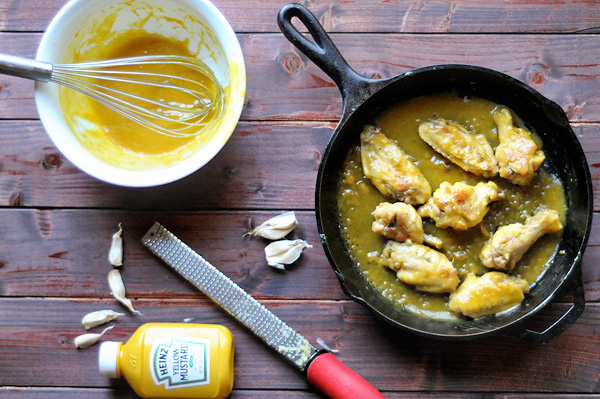 Garlicky mustard wings
Serves 4
Ingredients:
2 pounds chicken wings, skin-on and bone-in
1/4 cup Dijon mustard
1/4 cup yellow mustard
1/4 cup honey
1/4 cup chicken broth
1 tablespoon lemon juice
1 tablespoon canola oil
1/2 teaspoon cayenne pepper
4 cloves garlic, mashed
Salt and pepper to taste
Directions:
Heat the oil in a heavy skillet fitted with a lid over medium-low heat.
Sprinkle the wings with salt and pepper.
Place the wings skin-side-down in the hot pan. Let them sear for about 2-3 minutes per side to get a good golden crust.
Meanwhile whisk together the Dijon mustard, yellow mustard, honey, lemon juice, cayenne pepper and garlic.
When the chicken has seared on all sides, pour in the chicken broth. Cover with lid to let cook for 4 minutes.
Remove lid and pour in the mustard sauce.
Cook until the sauce has reduced and the sauce is starting to caramelize on the wings, about 4-5 minutes.
Remove from the heat and allow to cool in the sauce about 5 minutes.
Serve hot.
More mouth-watering wing recipes
Saucy chicken wings
Crock-pot teriyaki chicken wings
Hawaiian chicken wings