Fudge mocha brownies
Chocolate and coffee, the perfect flavor combination!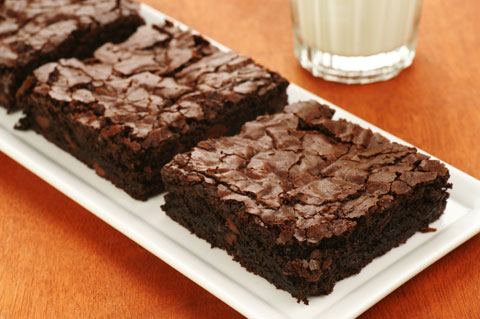 Sometimes you don't have the chocolate bars on hand to whip up a batch of brownies. However, if you keep cocoa in your pantry, these are easy to make, anytime! Flavored coffees are a delicious addition to these brownies, because you can play around with all of the flavors and really make your brownies unique. A little bit of coffee/espresso/instant coffee goes a long way to complementing any of your chocolate baking, so play around until you find your favorite coffee flavor, then enjoy the sweet marriage of coffee and chocolate! Also, keep plastic knives around, as they are the best utensil for cutting the perfect brownie.
Fudge mocha brownies
Makes 12-15 brownies
Ingredients:
15 tablespoons cocoa
5 tablespoons vegetable oil
12 tablespoons butter, diced
2 cups sugar
1-1/2 tablespoons instant flavored coffee
Pinch of salt (1/2 teaspoon)
2 teaspoons vanilla
4 eggs
1 cup of all-purpose flour
1 bag chocolate chips
Directions:
In a medium-sized saucepan, heat water to a low simmer (not boiling) for a double boiler preparation.
In a bowl that you will place over the simmering water, mix cocoa and vegetable oil together.
Next add the diced butter, whisking until the chocolate mixture is smooth. Remove from heat.
In a separate bowl, whisk sugar, flavored coffee, salt together, then whisk into chocolate mixture, then add the vanilla.
Gradually add the eggs, one at a time to chocolate mixture.
Stir the chocolate chips into the flour, then add the flour (and chips) to the chocolate mixture.
Grease a 9 x 9-inch pan with butter and pour batter into pan.
Bake at 375 degrees F for 21 minutes for more chewy brownies. Let cool, then cut with a plastic knife.
More chocolate and espresso recipes
Lava cake in a crock-pot
Chocolate espresso lava cakes
Frozen chocolate espresso