Skillet chicken enchiladas
There's nothing worse than coming home after a long day of work to screaming hungry children. Instead of feeding them yet another box of macaroni, why not serve them something with a little kick, like this recipe for skillet chicken enchiladas? This super easy weeknight dinner has all of the flavors you love from enchiladas, made easier in one simple skillet.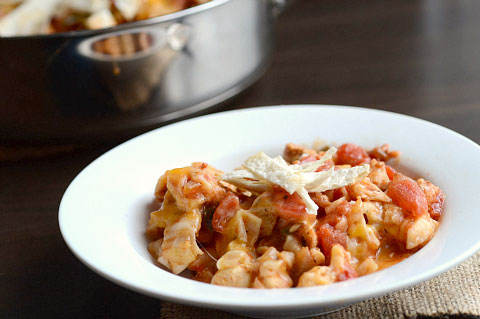 This one-skillet meal is quick and easy so you can spend more time with your family and less time sweating by a stove. Plus, one skillet means less clean up afterwards too!
Skillet chicken enchiladas
Recipe adapted from Ready Set Eat
Serves about 6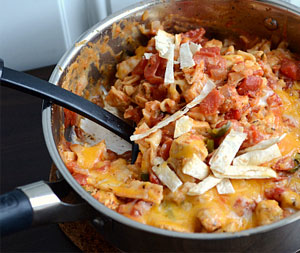 Ingredients:
2 tablespoons extra virgin olive oil
6 large flour tortillas, cut into strips
3 cups cooked chicken, chopped or diced
1/3 cup diced onion
1 bell pepper, chopped
10 ounces diced tomatoes with green chiles
10 ounces red enchilada sauce
8 ounces plain tomato sauce
1/2 cup sharp cheddar cheese, shredded
1/2 cup mozzarella cheese, shredded
2 tablespoons taco seasoning
Directions: 
Heat the olive oil in a large skillet over medium heat. Add the onions, peppers and tortillas. Cook until the vegetables are soft and tortillas are browning, about 5 minutes. Add the chicken and taco seasoning.
Drain the tomatoes and mix in with the chicken mixture. Add the enchilada sauce and tomato sauce and heat another 3 - 4 minutes.
Mix the cheese together. Add 1/2 of the cheese over the chicken mixture and cover; cooking until cheese is fully melted.
Remove the skillet from the heat and add remaining cheese. Serve immediately.
More one-skillet recipes
Buffalo chicken lasagna skillet for one
Farmers market steak skillet recipe
One skillet tuna noodle casserole recipe