Rainbow layered crispy treats
Your kids will love getting involved in this treat! Different color crispy treats are all pressed together to make a festive and colorful St. Patrick's Day treat!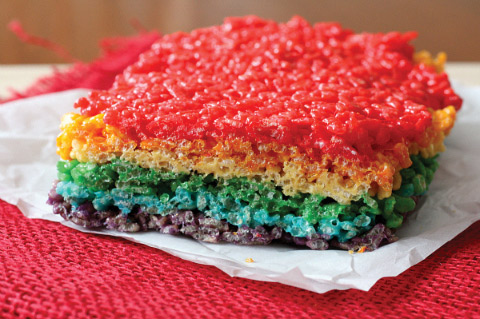 These colorful Rice Krispies Treats are super simple to make and will be sure to impress! They are perfect for your St. Patrick's Day celebration and the best part is that they are no-bake! That's right. No need to even heat up the oven to throw together these perfectly sweet treats!
Rainbow Rice Krispies Treats recipe
Yield 9 x 9-inch pan
Ingredients:
6 tablespoons butter
6 cups miniature marshmallows
6 cups Rice Krispies cereal
Blue food coloring
Green food coloring
Red food coloring
Yellow food coloring
Directions:
Line a 9 x 9-inch pan with parchment paper.
In a medium sized skillet, let 1 tablespoon of butter melt over medium heat and add in 1 cup of miniature marshmallows. Let mixture melt and add in food coloring. Stir to combine food coloring into the marshmallows and then add 1 cup of Rice Krispies.
Mix together and press into bottom of the parchment lined 9 x 9-inch pan.
Clean out the skillet and repeat the whole process with the next 5 layers.
The layers will be done in the following order: violet (3 drops blue and 1 or 2 drops red), blue, green, yellow, orange (just add a few more drops of yellow to deepen the color) and finally red.
Once all the layers have been completed, let the Rice Krispies bars set for about 20 minutes until they are cooled.
More Rice Krispies recipes
Very cherry Rice Krispies recipe
Rice Krispies Treat ornaments recipe
Funfetti conversation heart Rice Krispies recipe