Homemade goldfish crackers
Not a fan of preservatives? These simple crackers taste just like the store bought stuff but are a lot healthier. Made from natural ingredients, they're perfect for your little ones.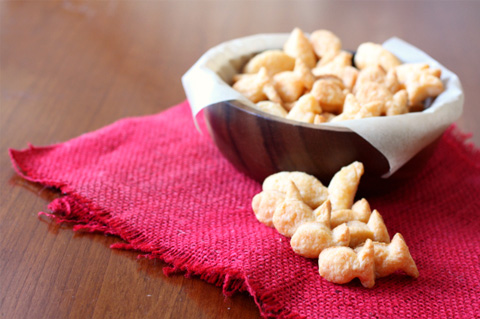 Looking for a quick and easy cracker recipe? We all know kids love those little fish-shaped cheese crackers but they are filled with non-natural ingredients. These simple crackers only use five ingredients and fun shaped cookie cutters. If you cannot find a miniature fish cutter, don't worry. Stars, hearts, circles and even squares will work. Let your imagination run wild!
Homemade goldfish crackers
Yield 3-5 dozen (depending on cutter size and cracker thickness)
Ingredients:
8 ounces sharp cheddar cheese (grated)
4 tablespoons cubed unsalted butter (cold)
1/2 cup all-purpose flour
1/2 cup white whole wheat flour
1 teaspoon kosher salt
2 tablespoons ice cold water
Directions:
Using a food processor, add cheese, butter, both flours and salt.
Pulse until it resembles coarse wet sand. Add in 1 tablespoon of water, pulse to combine and add in the last tablespoon of water. Pulse once again to combine.
Lay out a large piece of plastic wrap and dump dough onto the plastic wrap. Combine dough together with your hands, flatten into a disk and wrap in plastic. Let chill in the refrigerator for at least 20 minutes but up to one day.
Once chilled, preheat oven to 350 degrees F and roll out cracker dough to desired thickness. Thinner dough gives you more crackers and a crispier texture, while thicker dough gives you fewer crackers and a puffy/chewy texture.
Cut out desired shapes, add to a parchment or Silpat-lined baking sheet and bake for about 12-15 minutes until browned.
Optional: Sprinkle uncooked shapes with a little kosher salt before baking.
More cracker recipes
Tasty oyster cracker recipe
Whole wheat cheddar jalapeno cracker recipe
Gluten-free almond flour sesame cracker recipe