Adorable vegetable creations
Do you have really picky kids? Are they constantly pushing the vegetables off their plates? Instead of giving up on trying to get your family to eat healthier, why not make it more fun? These adorable vegetable creations are so cute, your kids will forget they are healthy. Serve each one with their favorite dipping sauce for an easy way to get them to gobble up good for them snacks.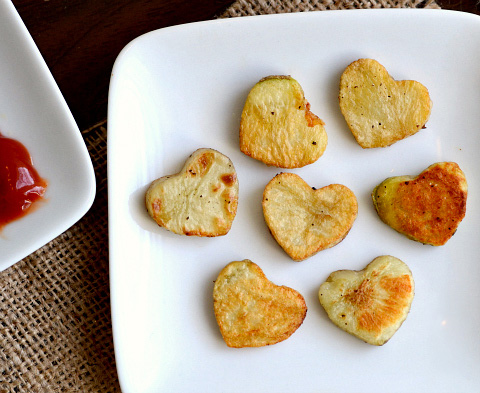 Cucumber flower gardens, eggplant tic-tac-toe boards and crispy potato cutouts make eating your vegetables a fun task, not a chore! To get your kids even more excited about these dishes, ask them to help you while you make them! Who said it was bad to play with your food?
Crispy potato cutouts
Serves about 4
Ingredients:
3 large russet potatoes
2 tablespoons olive oil
Salt and pepper
Foil
Directions:
Slice the potatoes into about 1/3-inch thick slices. Using a cookie cutter (we used mini hearts) punch out shapes.
Preheat the oven to 375 degrees F. Line a cookie sheet with foil and cover with nonstick cooking spray. Place cutouts all around on the foiled sheet.
Sprinkle the potatoes with olive oil and salt and pepper. Bake for 10 minutes, then flip the potatoes, and bake another 10 minutes, or until browned and crispy.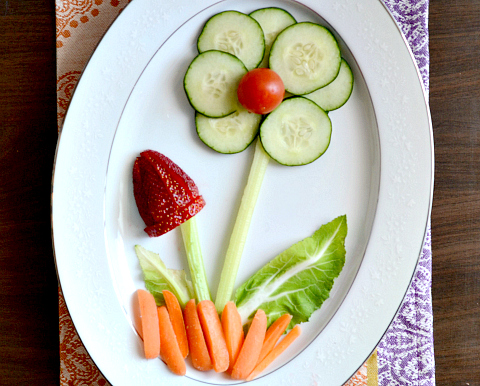 Cucumber flower garden
Recipe inspired by Smiling Green Mom
Serves about 4
Ingredients:
1 medium cucumber, sliced
2 celery sticks
About 8 baby carrots
Beets or radishes, quartered
1 cherry tomato
Leafy greens (we used beet leaves)
Your favorite dipping sauce
Directions:
Assemble flowers by creating blooms with the cucumbers and radishes. Add a cherry tomato to the middle of the cucumbers to create a bulb. Use a celery stick for the stems for both the radishes and cucumbers. Add some beet leaves around the stem of the celery and add carrots around to create a colorful grass.
Serve with dip!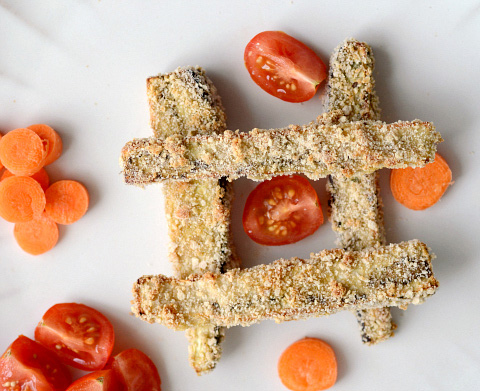 Eggplant tic-tac-toe board
Serves 2
Ingredients:
For the baked eggplant: 
1 medium eggplant, cut into strips
1 egg, lightly beaten
1/2 cup bread crumbs
2 tablespoons shredded Parmesan cheese
Salt and pepper to taste
For the pieces: 
Carrots
Cherry tomatoes, cut in half
Directions: 
To make the eggplant, preheat the oven to 375 degrees F. Liberally grease a baking pan with nonstick cooking spray and set aside.
Mix the breadcrumbs, Parmesan cheese and salt and pepper together. Dip each eggplant slice into the egg and then into the breadcrumb mixture. Place on the baking sheet.
Bake sticks for about 15 - 18 minutes, or until golden brown and crispy. Remove from heat and let chill.
To make the board, lay two sticks about an inch away from each other. Place two more sticks on top of the other sticks on both ends. Then, grab your playing pieces and play a game!
More kid-friendly snack recipes
After school snacks your kids can prepare
Real moms share: Simple snacks my kids love
8 After-school snacks for a hot day