Lightened up mac n' cheese recipe
Winter is a time for comfort food, but the new year brings resolutions of a healthier diet and lifestyle. With a little tweaking of your favorite recipes, you can have it all and enjoy this lightened up mac n' cheese recipe.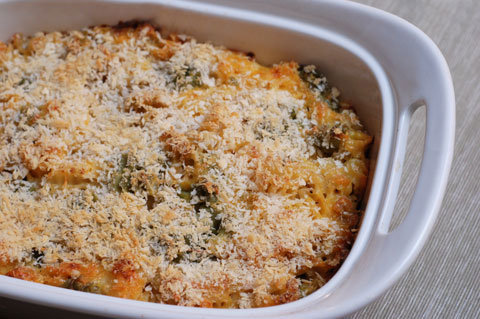 Lightened up mac n' cheese recipe
Serves 6-8
Ingredients:
1 pound tri-color vegetable pasta
2 cups low-fat shredded cheddar cheese
1/3 cup Parmesan cheese
3 cups fat-free milk
1/2 teaspoon ground mustard
1/2 teaspoon pepper
1/2 teaspoon salt
1/2 cup bread crumbs
Directions:
Cook the pasta according to the package directions, then drain it and return it to the warm pot.
Preheat the oven to 400 degrees F.
In the large pot, combine all of the ingredients (except the bread crumbs) and stir until well combined.
Transfer the mixture into a 2-quart casserole dish.
Sprinkle the bread crumbs over the top of the macaroni and cheese.
Bake in the oven for 35-45 minutes, until the cheese is bubbly and the bread crumbs are lightly browned.
More healthy recipes
Guilt-free brownie recipe
Eggplant mozzarella sticks recipe
Healthy hash brown casserole