Homemade honey roasted cinnamon almond butter
Flavorful homemade almond butter doesn't have to take all day and doesn't have to be complicated. Almonds roasted with honey and cinnamon make this homemade honey roasted cinnamon almond butter something special!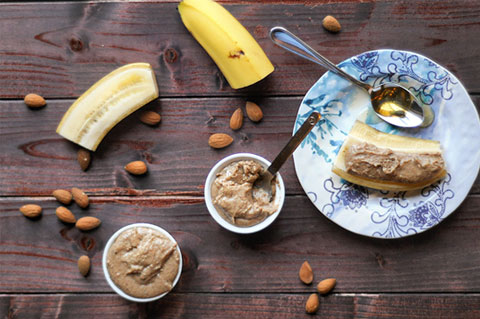 Homemade honey roasted cinnamon almond butter
Makes 1 cup of almond butter
Ingredients:
2 cups whole raw almonds
1/4 cup honey
1 tablespoon vegetable oil
1 teaspoon salt
1 teaspoon cinnamon
1/4 teaspoon vanilla extract
Directions:
Preheat your oven to 300 degrees F.
Spray a large sheet pan with nonstick spray or line with parchment paper.
Pour the almonds on the prepared pan and drizzle with honey.
Roast for about 20 minutes, until the honey has started to brown slightly and the nuts are fragrant, but not burned.
Remove from the oven and let cool for 2-3 minutes.
Pour the roasted nuts into a high-powered food processor with the salt, cinnamon and vanilla extract.
Pulse 4-5 times to break up the nuts, then turn the processor on high and let it process for about 8-10 minutes.
At this point add the vegetable oil if the combination is crumbly.
Process a bit longer until smooth.
Store at room temperature in an air-tight container.
More fabulous recipes using almond butter
Almond butter cups
No-cook almond butter balls
Strawberry almond butter smoothie