Breakfast biscuit pie
Change up the breakfast rotation by piling tons of scrambled eggs, cheese, and your favorite breakfast meat into a crust of flaky biscuit dough!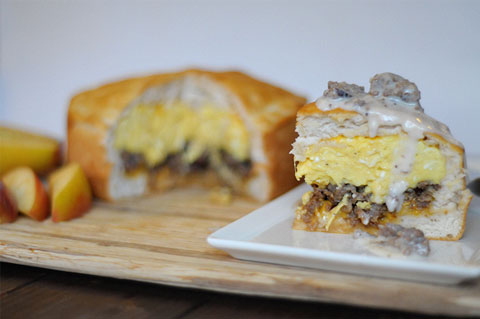 Breakfast biscuit pie
Serves 6
Ingredients:
1 (12 ounce) can store-bought biscuit dough
1 pound breakfast sausage
5 whole eggs
2 tablespoons flour
2 cups milk
1/2 cup shredded cheddar cheese
1 teaspoon salt
1 teaspoon pepper
Directions:
Preheat your oven to 350 degrees F. Using a rolling pin, roll out the biscuit dough piece by piece to 1/4 inch in thickness.
Press the rolled out biscuits (about 6 biscuits) into a 6-inch cake pan, being sure to pinch the seams together and press the dough all the way up the sides.
Sprinkle half of the cheese evenly on top of the pie crust.
Reserve the remaining 4 biscuits to top the pie with.
In a large skillet, brown the breakfast sausage until fully cooked.
Drain, reserving 2 tablespoons of the drippings, and set aside.
Sprinkle half of the cooked sausage evenly over the cheese in the pan.
In a bowl whisk together the eggs until smooth.
Heat a small skillet over medium-low heat and spray with nonstick spray.
Scramble the eggs until almost done, remove from the heat.
Pour the eggs evenly over the sausage, and then top with the remaining cheese.
Place the remaining biscuits on top of the cheese and pinch the seams together, taking care to pinch the seams together around the outer edge of the pan.
Bake for 15-20 minutes until the biscuits on top are golden brown.
Let sit for 10 minutes before serving.
While the pie is cooling, heat the reserved sausage drippings in a skillet over medium heat.
Whisk in the flour and let it cook for about 1 minute, then whisk in the milk.
Season with salt and pepper, and allow to thicken for about 7-10 minutes, whisking constantly to avoid lumps.
To serve, slice the pie into 6 even wedges and top with the sausage gravy.
More genius breakfast ideas
Breakfast grilled cheese
Breakfast quesadillas recipe
Savory breakfast strata recipe