Easy homemade Ikea meatballs
Who doesn't love going to Ikea? Even though the experience is fun, our favorite part of the whole trip is the delicious food! For less than $5 you can get a huge plate of delicious Swedish meatballs and cream sauce. To satisfy your craving (and save you the money you would spend on cheap furniture), we are sharing this super easy recipe for copycat Ikea meatballs!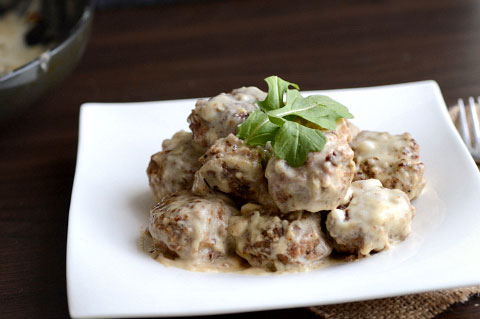 Made from ground pork and beef, these meatballs are full of flavor. Paired with a simple cream sauce, these make the perfect weeknight dinner. Plus, like Ikea's, you can make a bunch of these and then freeze for later eating!
Homemade Ikea copycat meatballs
Recipe inspired by Food.com
Yields about 25 meatballs
Ingredients:
For the meatballs:
1/2 pound lean ground beef
1/2 pound ground pork
1 egg, slightly beaten
1 small yellow onion, diced
1/4 cup breadcrumbs
1/3 cup light cream
1/2 cup beef broth
2 tablespoons Greek yogurt
2 tablespoons melted butter
Salt and pepper to taste
For the cream sauce:
1/2 cup heavy whipping cream
1 cup beef broth
1 tablespoon all-purpose flour
1 tablespoon unsalted butter
Salt and pepper to taste
Directions:
To make the meatballs, mix the ground beef, pork, egg, onion, breadcrumbs, light cream, broth and Greek yogurt with your hands until fully combined. Add salt and pepper to season.
Shape the meat mixture into medium-size balls (the size of a golf ball).
Heat 1 tablespoon of butter in a nonstick frying pan. Add meatballs and fry until golden brown on all sides, about 5 - 6 minutes.
To make the cream sauce, melt the butter in a pan. Whisk in flour and whisk until golden brown. Add beef broth and cream and whisk until thickened. Add salt and pepper to taste.
Add the meatballs to the sauce and serve immediately.
More easy dinnertime recipes
Super stuffed baked potatoes
Tonight's Dinner: Corn grits with shrimp
Fast fix dinners: Casseroles