PB & J muffins
We all know and love peanut butter and jelly sandwiches. Why not turn that great combo into something delightfully different?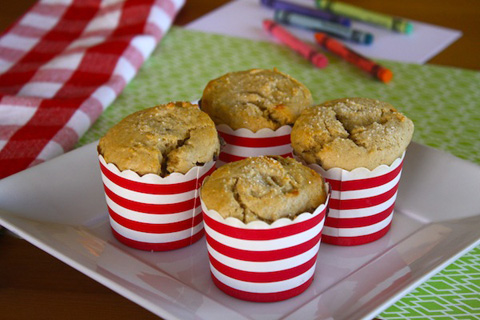 Your kids will have fun eating PB & J muffins! The tried-and-true flavor combo of smooth peanut butter and grape jelly (or whatever your favorite flavor might be) works well packaged in a muffin. Perfect for an after-school snack or lunchtime treat, these muffins will delight!
PB & J muffins
Yields 1 dozen
Ingredients:
2 cups all-purpose flour
1 teaspoon salt
1 tablespoon baking powder
1/4 teaspoon cinnamon
3/4 cup milk
2 eggs
2 tablespoons butter, melted
1/4 cup granulated sugar, plus extra for dusting
1/4 cup packed brown sugar
1 cup smooth peanut butter
1/4-1/2 cup seedless grape jam
Directions:
Preheat your oven to 375 degrees F.
If you're not using paper muffin cups, spray a 12-piece muffin tin with nonstick cooking spray. Otherwise, place the muffin cups in the tins.
Sift the flour, salt, baking powder and cinnamon in a large bowl.
In a medium-sized bowl, add the milk, eggs, peanut butter, butter and sugars.
Combine the milk mixture into the dry mixture and beat on low speed with a mixer, just until combined.
Spoon the batter into the muffin cups, to halfway filled. Spread the batter evenly.
Add 1-1/2 teaspoons of the grape jam to the muffins, spreading evenly.
Top the muffins with the remaining batter and sprinkle with the granulated sugar.
Bake for 18-20 minutes, or until the tops of the muffins turn golden.
Remove from the oven and allow the muffins to cool to the touch, then place them on a wire rack to cool completely.
More snack ideas
Apple nachos recipe
Healthy road trip snacks
Homemade graham crackers