Sweet potato chili
Sweet complements the heat when you add sweet potatoes and a touch of cinnamon to all the other spices.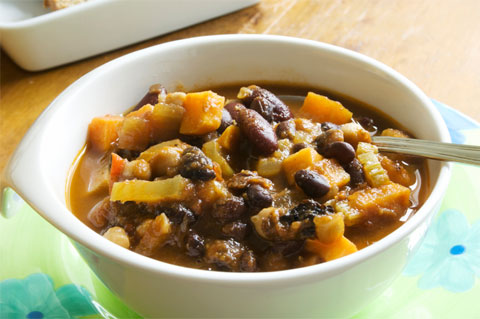 If you have recently made Mexican beans, this is an awesome way to use the leftovers, and they are a delicious addition to the chili. Also a great way to use leftover sweet potatoes.
Sweet potato chili
Serves 6-8
Ingredients:
Olive oil (enough to barely coat the bottom of your pan)
1 white onion, diced
3 cloves of garlic, minced
1 jalapeño pepper, diced finely
2 cups cooked pinto beans* (or 2 cans of kidney beans, rinsed and drained)
3 cups cooked sweet potato, mashed
1 jar of stewed tomatoes (fresh is best, but 1 large can of crushed tomatoes can be used)
1 can tomatoes with diced chilies
1 teaspoon ground cinnamon
Sazón Completa (to your taste, about 1-1/2 teaspoons)
Cumin (to your taste, about 1/2 teaspoon)
Cayenne pepper (to your taste, about 1/2 teaspoon)
Chili powder (to your taste, about 1 teaspoon) 
Salt and pepper (also to your taste)
Cheese (for topping)
Sour cream (for topping)
Jalapeño (for topping)
Sliced avocado or guacamole for topping
Pico de gallo on top of chili
Crackers or tortilla chips
Directions:
In a large skillet over medium-high heat, add the olive oil, onion, garlic and jalapeño, and sauté until the onions are translucent.
Add the tomatoes, beans, sweet potatoes and seasonings (all to your taste), stirring to combine.
Bring to a boil, then cover and reduce heat to low, and simmer for a couple of hours, stirring occasionally, and tasting to see if any other spices are needed.
Serve with cornbread or crackers/tortilla chips of your choice and enjoy!
More chili recipes to try