Caribbean jerk meatloaf
Bring the islands to your dinner table this winter! Caribbean jerk meatloaf turns a classic American favorite into a spicy go-to meal with tons of flavor.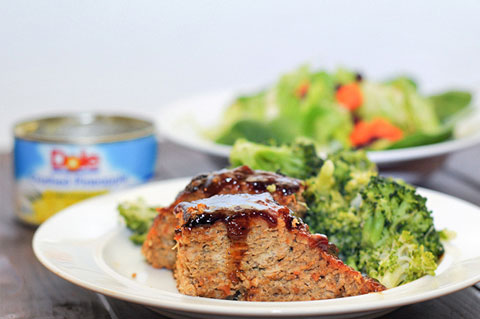 Caribbean jerk meatloaf
Serves 8
Ingredients:
For the meatloaf

2 pounds ground chicken
1/2 large yellow onion, roughly chopped
2 small carrots, roughly chopped
1 stalk celery, roughly chopped
1 (8 ounce) can crushed pineapple, drain and reserve the juice
1/2 cup ketchup
1 whole egg
1 egg white
1 cup panko breadcrumbs
3 heaping teaspoons Caribbean jerk seasoning, recipe below
For the glaze
1/3 cup ketchup
1/3 cup brown sugar
1/3 cup reserved pineapple juice
2 teaspoons Dijon mustard
3 teaspoons Caribbean jerk seasoning, recipe below
Caribbean jerk seasoning
2 tablespoons onion powder
1 tablespoons garlic powder
2 teaspoons dried thyme
2 teaspoons allspice
2 teaspoons black pepper
1 teaspoon cinnamon
1 teaspoon cayenne pepper
3/4 teaspoon salt
Directions:
First combine all of the Caribbean jerk seasoning spices in a small bowl until well combined.
Preheat oven to 400 degrees F and line a sheet pan with foil and spray with nonstick spray. Set aside.
For the meatloaf, combine the onion, carrots, celery and the drained pineapple in a food processor.
Process until nearly smooth and add to a large bowl.
Into the large bowl add the ketchup, egg, egg white, breadcrumbs and prepared seasoning.
Stir together until well combined.
Gently mix in the ground chicken.
Form into a large loaf shape, about 9 inches long and 5 inches wide, on prepared sheet pan.
Bake for 40 minutes.
Meanwhile stir together the glaze ingredients.
When the loaf has baked 40 minutes, pour the glaze evenly over the top.
Bake for another 30 minutes until the glaze is thick and rich and the meatloaf is golden.
Let cool for 10 minutes before serving.
More fabulous meatloaf makeovers
Spanish meatloaf
Apple meatloaf with 5-spice glaze
Pizza roll meatloaf