Leftover mashed potato gnocchi
Gnocchi done easy? Absolutely!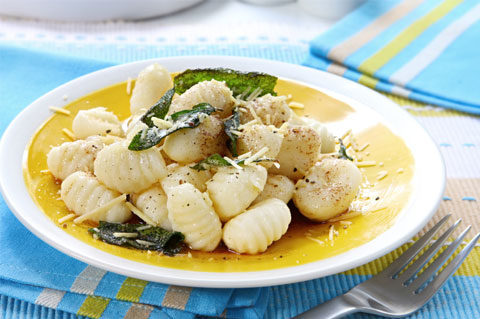 Turn your leftover mashed potatoes into gnocchi, then top with this delicious sautéed spinach-lemon topping. Gnocchi from leftover mashed potatoes is a real treat — plus the mashed potatoes don't go to waste!
Leftover mashed potato gnocchi
Serves 4
For the gnocchi
Ingredients:
1 cup leftover mashed potatoes
1 beaten egg
1-1/4 cups all-purpose flour
Directions:
Stir together the potatoes, egg and flour. Dump the mixture onto a floured surface and knead dough together. (You may find that you need more flour, and just add a little bit at a time.)
Cut the dough into three sections, then gently roll each section into a long rope.
Cut each rope into small sizes, about 1/2-inch in size.
Take the tines of your fork and make tiny indentions on the top of the gnocchi.
Bring a large pot of water (add about 1 tablespoon of sea salt or kosher salt) to a boil, then drop one batch at a time (one batch being what you cut from each rope) into the boiling water. At first, the gnocchi will sink to the bottom. When they float to the top, they are done, but let them cook for about 3 to 5 minutes.
Serve with the spinach sauce or your favorite marinara sauce.
For the sauce
Ingredients:
1 teaspoon olive oil
1 shallot, finely diced
1 clove garlic, finely diced
2 cups fresh spinach
Handful of fresh basil, chopped
Juice of one lemon
Salt and pepper to taste
Directions:
In a medium sized skillet on medium heat, sauté shallot and garlic in olive oil then add shrimp.
Cook until all of the spinach has wilted down, then add basil and lemon juice.
Pour over gnocchi and enjoy!
More gnocchi recipes to try
Fried gnocchi
Gnocchi in Parmesan cream sauce
Sweet potato gnocchi