Stuffed spinach and corn packets
These packets are filled with great taste (and loads of veggies) and are a breeze to put together!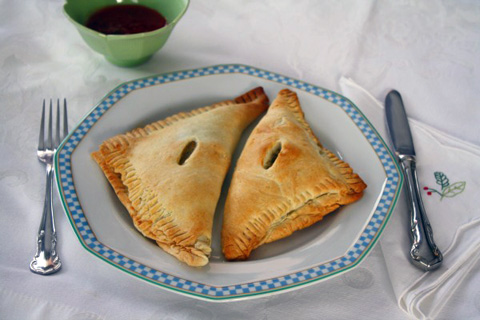 This is a dish that is fun and tasty to dig into. Perfect for kids and the adults in the family, stuffed spinach and corn packets are similar in style to a Cornish pasty. Although you could eat these with your hands, we recommend a knife and fork! This version is stuffed with a variety of veggies and cooks up warm and satisfying as a great part of a meal!
Stuffed spinach and corn packets
Yields 4
Ingredients:
1 package prepared pie dough (2 disks)
1 (14 ounce) can creamed corn
2 cups, packed, fresh spinach
1 small potato, peeled and diced very small
1/3 cup diced onion
2 tablespoons butter
1/2 teaspoon salt
1/2 teaspoon ground black pepper
1/4 teaspoon red pepper flakes
Directions:
Preheat your oven to 375 degrees F.
Add the butter to a large sauté pan over medium-high heat. When hot, add the onion and potato and cook for 3 to 5 minutes.
Add the spinach to the mixture and when it begins to wilt, add the corn, salt, pepper and red pepper flakes. Mix well and cook for another minute or two. Remove from the heat and set aside.
Place the pie disks on a flat work surface and cut the edges from each of the disks, so they're shaped like squares.
Cut four large squares (2 from each disk) from the dough. You may need to use the edges that you cut away from the disk to form (or add to) one of the squares. If you do, simply pile the dough together and roll it with a rolling pin to flatten it out.
Lightly grease a baking sheet.
Place about 2 heaping tablespoons of the vegetable mixture into the center of each square. Fold in half to form a large triangle, and press the edges together with a fork. Use a sharp knife to cut a slit about 1/2 an inch long, into the top of the triangle.
Place on baking sheet and bake for 25-35 minutes, or until the tops of the packets turn golden.
More main dish vegetarian recipes
Mushroom soup
Creamy vegan butternut squash pasta carbonara
Mediterranean pizza pitas