Start the New Year with a plan to fight hunger
Help fight hunger by starting locally.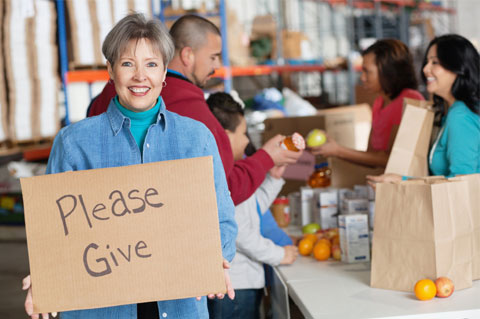 Start the New Year with a plan to fight hunger
With 1 in 6 Americans fighting hunger, there has to be a way we can all get involved and help. It might be easier to get involved than you think. Though it cannot be done by one person alone, one person can organize a group to help make a difference in your community, and to help raise awareness. Hunger does not discriminate. Hungry 6-year-olds might benefit from programs like the Backpack Program and hungry senior citizens rely on organizations like Meals on Wheels to feed them. If not for programs like these, our friends and neighbors would literally go to bed hungry... and often times they do.
Donate to help backpack program
Children who benefit from the free and reduced lunch programs at schools have meals at school, but what about during the weekends, snow days, holidays and breaks? Often times they go without food. Local food banks are the ones who provide for those children's families. Consider making a donation to a local food bank so they can stock their pantries. There is often not enough funding available from food banks to provide the backpack program foods for all children in need. If everyone could make even a small monetary donation, each month, to food banks, they would be able to stock their pantries with more food, which in turn would feed more families.
Host food drives to raise awareness
Although food banks need food donations, what they need the most is money. Food banks can buy more for their dollar than what we can buy for our dollar. That being said, their shelves get bare from time to time, and getting your friends and neighbors talking about the need raises awareness. So send out an email or pass out flyers to your church group, your book clubs, your kids' classrooms and to team parents — anywhere you can gather a crowd to help. The more you talk about the need, the more people will be willing to help.
Pick a charity
There are plenty of charities who feed the hungry. You can give on a national level to organizations like: No Kid Hungry/Share Our Strength, Feeding America or Meals on Wheels. You can also find a local food bank who would gladly accept your donation or volunteer hands. No matter where you give, just find it in your heart to give. Imagine if that were your child going to school hungry, or your parent or grandparent going to bed hungry. Every little bit certainly helps, and with an early decision to help make a difference this year, we can all work as a team to help to end hunger!
Other ways to make a difference
Hunger in our schools
Food drive dinner party
8 Ways you can help fight hunger