Pineapple French vanilla poke cake
Make this super simple and incredibly moist pineapple vanilla poke cake any time you need a little tropical boost. Perfect for a snowy day or in the middle of the summer!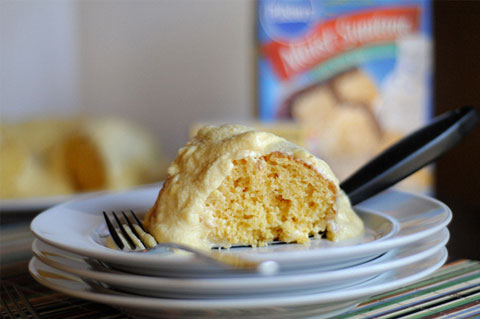 Pineapple French vanilla poke cake
Serves 12
Ingredients:
1 (15.75 ounce) box butter cake mix
3 whole eggs
1 cup water
1 (8 ounce) can crushed pineapple
2 (3.2 ounce) boxes instant French vanilla pudding mix
2 cups milk
1 stick butter
2 cups powdered sugar
Directions:
Preheat the oven to 350 degrees F.
Spray a bundt pan with nonstick spray and flour. Set aside.
Set a colander over a small bowl and drain the crushed pineapple. Reserve both the juice and the pineapple.
In a bowl whisk together the eggs, water and 1/2 cup of the drained pineapple until combined.
Whisk in the cake mix for 1 minute. Pour the batter into the prepared pan.
Bake for 30-40 minutes until a toothpick inserted comes out clean.
Let the cake cool completely, then gently turn it out onto a plate.
Using a chopstick poke holes all over the top, then return the cake to the cake pan and poke holes all over the bottom.
In a medium bowl whisk together the milk and one of the boxes of pudding mix.
Let stand for 2 minutes, then gently pour all over the cake in the cake pan.
Place the cake in the fridge to allow the pudding mix to completely soak into the cake.
When the pudding has completely soaked in, gently turn the cake onto a plate again. Place in the refrigerator while you make the frosting.
For the frosting place the stick of butter and the reserved pineapple juice in the bowl of a stand mixer fitted with a whisk attachment and cream together until smooth.
Gently stir in the powdered sugar and the other box of pudding mix. Once it has been slightly incorporated with the wet ingredients whip the mixture on high until fluffy, about 2 minutes.
Store the frosting in the fridge with the cake until ready to serve, then spread evenly over the cake.
Serve cold.
More amazing cake recipes