Strawberry-peanut butter pancakes recipe
One reason we all love IHOP this time of year is the creative ways they serve pancakes. But they don't have a copyright on cool ways to serve pancakes! Try this fun recipe to give holiday mornings an extra-special feel.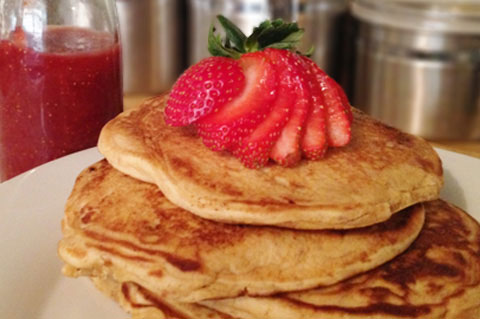 You'll love this sweet pancake recipe featuring peanut butter and strawberries just as much as your kids do. The biggest problem you'll have with this recipe is convincing everyone you didn't sneak in takeout!
Strawberry-peanut butter pancakes recipe
Yields 8 - 10
Ingredients:
Strawberry chutney:
16 ounces fresh strawberries
3/4 cup sugar
2 tablespoons corn syrup
2 tablespoons orange juice
1/2 teaspoon orange zest
1/2 teaspoon unsalted butter
Pancakes:
2 cups flour
2 tablespoons sugar
4 teaspoons baking powder
1 teaspoon baking soda
1 teaspoon salt
4 tablespoons unsalted butter, room temperature
1 teaspoon vanilla
2 eggs, slightly beaten
2 cups buttermilk
2/3 cup creamy peanut butter
Directions:
Pull 4 or 5 small strawberries out and set aside for garnish.
Place the rest of the strawberries and the other ingredients for the strawberry chutney into a blender and blend until smooth.
Pour the mixture into a medium saucepan and cook on medium heat for 20 to 30 minutes, stirring frequently, until the mixture is just a bit thicker than syrup.
Meanwhile, in a large mixing bowl, sift together the dry pancake ingredients.
In a separate medium mixing bowl, combine the butter, eggs, vanilla and buttermilk.
Pour the wet ingredients into the dry ingredients a little at a time, stirring until just combined (do not over mix).
Add the peanut butter to the batter and stir until the mixture is just combined (the mixture will be thicker than regular pancakes).
Heat a griddle or skillet to medium-high heat (until a water droplet sizzles when dropped on it). Spritz the griddle or skillet with cooking spray liberally.
Use a ladle or liquid measuring cup to pour the pancakes onto the skillet in the same approximate sizes.
Allow the pancakes to cook until small bubbles appear on the edges, then flip and continue to cook until brown on both sides. Remove from the griddle or skillet and keep warm on a plate in the microwave until ready to serve.
If desired, skim the white froth off the top of the strawberry spread and / or strain the seeds from the mixture.
Serve the pancakes with the strawberry spread, butter, a fresh strawberry and whipped cream if desired. (No syrup is necessary for these pancakes.)
The pancakes can be stored in a freezer bag with pieces of wax paper between them for several weeks (it takes about 90 seconds in the microwave to reheat two pancakes). The strawberry chutney should be refrigerated in a microwave-safe bowl so it can be easily reheated.
More pancakes recipes