Christmas cookies: That's a wrap
Homemade cookies make amazing holiday gifts. Instead of just placing them in simple tins, try these unique ideas for packaging and wrapping your Christmas cookies this year.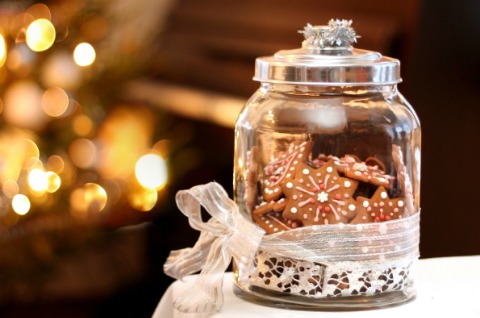 Pringles canisters
This idea is eco-friendly and cute too! Instead of throwing away your potato chip canisters, wash them out and decorate the outside with Con-Tact paper. Fill the canister with cookies and other treats. Put on the lid to seal in all the fresh goodness and add a bow on top. A similar idea is to use mailing tubes. You can stack the cookies up inside, and then hand-deliver or mail the tubes to your friends and family.
Mugs
If you are giving just a few cookies to each recipient, consider packaging your Christmas cookies in coffee mugs. Simply wrap a few cookies in plastic wrap and stick a bow on top, then tuck them inside a coffee mug. You can also slip in a packet of hot cocoa or a few tea bags to go along with the cookies. This packaging idea is perfect for your child's teacher.
Egg cartons
Another environmentally friendly idea is to package cookies in egg cartons. Place a red or green cupcake liner holding one cookie in each slot of the carton. You can decorate the outside of the carton — or just leave it as is for a fun, whimsical look.
Mason jars
Mason jars are being used for just about everything these days, and they are perfect for packaging Christmas cookies too. Stack cookies in these wide-mouth jars and then seal them shut. Include a copy of the recipe inside as well.
Jewelry boxes
Jewelry boxes, glass vases, baking pans, sets of bowls and other items make great gifts on their own. But when you fill them with cookies, these Christmas presents get even better. Line the jewelry box or other container with colorful tissue paper or parchment paper, and then fill it up with your favorite Christmas cookies and other holiday treats.
You can package or wrap cookies in just about everything — from favor bags to colorful envelopes and muslin bags to cardboard gift boxes. Even the simplest container can look beautiful when you add festive touches: curling ribbon, paper doilies, colorful washi tape and so on.
More about the holidays
Getting the kids involved in holiday baking
Family holiday food traditions
Host a holiday cookie exchange party