Pumpkin black bean spinach enchiladas
A perfect twist for a meat-free enchilada.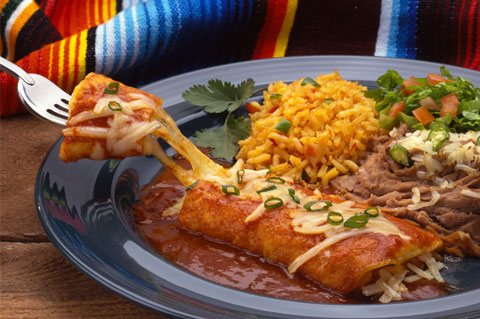 With pumpkin everywhere, why not put it in your enchiladas? If you are looking for a meat-free dish, this is it! These enchiladas are so delicious that when you realize that they are healthy, and packed with protein and nutrients that are so good for you, you won't feel bad about eating seconds. On top of all of that, they are extremely easy to make!
Pumpkin black bean enchiladas
Serves 6
Ingredients:
2 large shallots (or 3 small shallots), diced
1 bag fresh spinach
2 cans pumpkin (pure, not pumpkin pie filling)
2 cans black beans, rinsed and drained
1 to 2 teaspoons ground cumin
1 to 2 teaspoons cayenne pepper (more or less may be used)
Corn tortillas (any size, but smaller sizes work best)
2 tablespoons heavy whipping cream for topping
2 cups queso fresco or Mexican cheese for topping
1 jar of your favorite salsa
Directions:
Cook shallots in 1 tablespoon olive oil (or if using a non-stick pan, just use cooking spray) then add 1 bag of fresh spinach.
Cook the spinach and shallots together. Set aside.
In a large bowl, mix the pumpkin puree (not pie filling), rinsed and drained black beans and seasonings.
Stir in the spinach mixture and combine all of the ingredients together.
Place the corn tortillas between two paper towels, fold over to cover and heat in the microwave for 30 seconds. (This prevents them from tearing while filling with enchilada mixture.)
Pour 1/2 cup salsa on the bottom of a lightly greased 9 x 13-inch dish.
Spoon the pumpkin mixture down the center of each corn tortilla, then roll the tortilla up and place, seam side down in the dish. Repeat until the dish is full. You may either spread the remaining filling on top of the tortillas or make a second batch of tortillas.
Lightly drizzle the heavy whipping cream over the enchiladas. (Do this before adding the pumpkin topping, if using remaining mixture for the topping. The heavy whipping cream helps make tortillas crisp.)
Sprinkle the cheese over top. Bake at 350 degrees F for 30 minutes.
More easy enchilada recipes
Easy chicken enchiladas
Black bean sweet potato enchiladas
Creamy chicken enchiladas